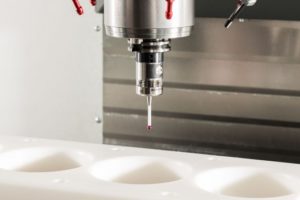 Engineering-grade plastic resins were first introduced in the early 1950s, and for nearly 70 years manufacturers have been enjoying the advantages of plastic materials. In the past, the most common application has been in converting metal parts to plastic, but with the rapid development of new advanced plastics that can outperform metal at lower cost, many engineers are now designing with plastic in mind.
The Advantages of Plastic Materials
Cost efficiency – Metal-to-plastic conversion can result in savings of 25-50%. This is due to several factors, such as the ability to replace multiple metal parts with one plastic part and the subsequent elimination of costly secondary processes. Additionally, many plastic resins can easily be colored, doing away with the need for painting. Plastics offer significant weight reduction for reduced shipping costs, and thermoplastic resins can typically be reused for reduced material waste.
Ease of fabrication – Plastics can be easily CNC machined into precise, intricate parts while still holding tight tolerances. Plastic parts offer a greater variety of material selection and the ability to create more complex geometries than metal. You can also mold in structural strength features such as ribs, bosses, and gussets during original production, increasing the strength of the part while reducing the need for expensive secondary services (such as fastening, welding, and gluing).
Longer part life – Plastic parts can last up to six times longer than their metal counterparts. This is due to their advanced properties, such as corrosion resistance, self-lubrication, radiation and chemical resistance, creep resistance, and hydrolysis resistance.
Chemical resistance – Advanced plastics offer a wide range of chemical resistance that can't be matched by other materials. PTFE (Teflon®) is a popular choice for parts that face chemical exposure because it is almost entirely chemically inert and highly insoluble in most solvents or chemicals.
High tensile strength – Numerous plastics have strength equal to that of metal, with some plastics even outperforming certain metals. Plastics also have great all-around strength, offering exceptional flexural strength, ultimate tensile strength, toughness, and stiffness.
Heat resistance – For applications that demand parts operate in temperatures exceeding 300ºF without compromising their mechanical properties, you need plastic. The best heat resistant plastic is Celazole® PBI, which has a continuous service capability of 750ºF in inert environments and 650ºF in air, with short-term exposure potential up to 1,000ºF.
Discover the Advantages of Plastic Materials at Reading Plastic
We've just scratched the surfaces of the numerous advantages of plastic materials. We could go on about low-friction plastics for moving parts, how plastics speed up prototype development and FDA compliance, and how biocompatible plastics are revolutionizing medical device. To learn more about how plastic can benefit your project, call us today at (610)-926-3245 or email site2@readingplastic.com. We look forward to working on your project!