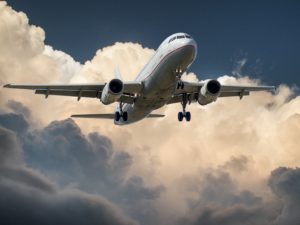 A 2017 report by Grand View Research, Inc. estimates that the global aerospace plastics market will reach 1.04 billion USD by 2025. The increasing demand for plastics in aerospace applications – particularly aerostructure – is expected to drive the market over the next seven years. From weight reduction to corrosion resistance, advanced plastics are significantly improving the performance and longevity of aircrafts.
Aerospace Plastics Market Booming in Every Sector of Aerospace Design
Aerostructure accounted for the majority of the aerospace plastics market in 2016, and that trend is expected to continue. Reinforced plastics are increasingly being used to manufacture fuselages, airframes, wings, door fairings, and empennages (stabilizing surfaces at the tail of an aircraft). Using composites and engineered polymers in the high-tension load environment of the fuselage helps reduce the need for maintenance from fatigue. Additionally, aerospace plastics can lower part counts in the fuselage through the use of integral clips and fasteners.
Propulsion systems used over 2,847.6 tons of plastic in 2016, and that sector is expected to grow as polymers are increasingly used in turbines, propeller systems, bearing bushes, and engine housings. Cabin interiors are also benefiting from durable, easy-to-clean plastic parts, and many aerospace components are now made from high-quality plastics.
The Benefits of Advanced Plastics in Aerospace Design
The properties of high-end plastics offer numerous benefits to the aerospace industry, with weight reduction topping the list. By converting large portions of aerostructure from metal to plastic, aerospace engineers can significantly reduce an aircraft's weight without compromising strength. Reduction in overall weight directly impacts a plane's performance and efficiency, with substantial savings in fuel and maintenance repair costs.
Aerospace plastics have high temperature and chemical resistance, low moisture absorption, high strength and durability even under stress, and insulating properties. They can also be precisely machined to hold tight tolerances, and some have self-lubricating properties that make them perfect for high-wear applications such as bearings. Their machinability offers a high degree of freedom when designing complex parts, allowing for the creation of parts that cannot be made with conventional metal.
Call the Aerospace Plastics Experts at Reading Plastic
As the aerospace plastics market continues to grow exponentially, Reading Plastic Machining & Fabrication is well equipped to meet increased demand. With over four decades of experience in plastic machining and fabrication, we have built a wide variety of high-performance aerospace parts in full compliance with Aviation Standards. If you're in need of durable, precise aviation parts, request a quote today by calling us at 610-926-3245 or emailing site2@readingplastic.com. We look forward to turning your aerospace designs into reality!