Specialty plastics for seals, gears, rollers and other military components
Choose from advanced engineered plastics that stand up to heat, friction, salt water and grit. We've made parts for every branch of the military and we're ready to produce whatever your mission requires.
Contact us for the strongest, most durable military-grade plastic parts.
I just had a chance to look at all of the panels we received on Friday. They look terrific! We appreciate your extra effort to get them to us on time and to have them cleaned up as you did.
Brett Haddaway, PlayVentures, Inc
RPMF is always on top of things, they can answer any question or give you a better solution.
Miriam C.
Our rush orders are always handled quickly. We depend on you, you always come through for us, and we plan on having a long working relationship.
Lisa P.
Keep in touch.
Want to learn more? Sign-up for our newsletter and we'll deliver only the most important industry news and knowledge right to your inbox.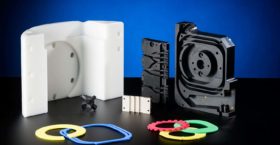 When it comes to getting high-quality plastic parts made, you want to choose a manufacturer with a proven track record of precision and reliability. For decades, companies, organizations and the military have been relying on Reading Plastic for high-quality plastic parts. We are well-known for producing parts with the closest tolerances in the industry from […]
Read More »