Specialty plastics for seals, gears, rollers and other military components
Choose from advanced engineered plastics that stand up to heat, friction, salt water and grit. We've made parts for every branch of the military and we're ready to produce whatever your mission requires.
Contact us for the strongest, most durable military-grade plastic parts.
RPMF is always on top of things, they can answer any question or give you a better solution.
Miriam C.
We have been very happy with every item you've made for us.
Randy K.
The medical device demo units you made were a big hit with our sales team last week. They all used them to practice insertions of the new device we are launching. It works great not just for selling b
Chris P
Keep in touch.
Want to learn more? Sign-up for our newsletter and we'll deliver only the most important industry news and knowledge right to your inbox.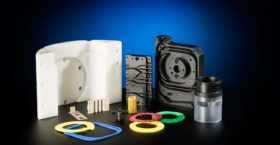 Precision plastic components are in high demand these days as more and more industries design parts with advanced engineering plastics in mind. For almost four decades, Reading Plastic Machining & Fabrication has been providing precision machined components for clients across every industry. We are a well-known industry leader for tight tolerance plastic parts, and our […]
Read More »