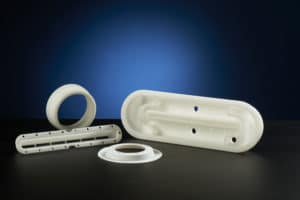 When it comes to quality plastic fabrication, Chicago turns to Reading Plastic Machining & Fabrication. For over 30 years, we've been delivering high-quality parts and outstanding customer service to our clients. We enjoy a loyal customer base thanks to our commitment to providing services that go above and beyond.
What Sets Reading Plastic Apart?
Consistently close tolerances – For complex part designs and demanding environments, close tolerances are a must. Many companies hesitate to make the switch from metal to plastic because they fear they will lose their tight tolerances. However, at Reading Plastic, our experts and machinery allow us to achieve unmatched precision for your plastic parts. We can even perform secondary operations on 3D-printed parts to get their tolerances where they need to be.
Gigantic plastic distribution – We make it easy to purchase specialty plastics by providing you with the quantity you need – no matter how large or small – at a fair price. Choose from raw sheets, tubes and bars, or have us cut your plastic to size. With bending, threading, and other plastic fabrication services, we can save you time by handling the prep work. We not only offer prompt delivery, but our experts are available to answer questions about which plastic is best for your project. We have decades of hands-on experience observing how the materials perform in various settings, and we are happy to share that knowledge with you.
Compliance standards – We are familiar with the compliance standards of a diverse selection of industries, such as FDA, aviation, and Department of Defense standards. Our ISO 9001:2008 certification means you can have confidence in our quality and management. We frequently machine parts under nondisclosure agreements and can be trusted with sensitive projects.
We handle your project from start to finish – From expert CNC machining to custom fabrication, we are your one-stop-shop for quality plastic parts. Whether snapping machined parts together or hot stamping logos, we get finished plastic parts ready for immediate use by you or your clients.
Plan ahead with OEM replacement parts – Machine breakdowns are costly headaches, especially when replacement parts are hard to find or delayed. At Reading Plastic, we can reverse engineer any OEM plastic part and produce high-quality, wear-resistant replacement parts. This gives you less downtime and reduced machine overhead costs, as well as a ready source of future replacement parts.
Reading Plastic: Superior Plastic Fabrication in Chicago
For unbeatable plastic fabrication, Chicago companies call Reading Plastic Machining & Fabrication. For nearly four decades we have been providing superior precision parts. For more information about our plastic fabrication services, call us today at 610-926-3245.