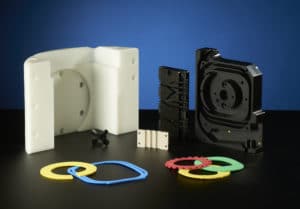 Reading Plastic Machining & Fabrication offers custom plastic fabrication NJ companies count on. Since the 1950's, we've built our company on craftsmanship, precision and quality. Our parts can be found around the world, in labs, hospitals, telecom equipment, aircrafts, military defense systems and beyond.
We are the source of performance parts guaranteed to deliver for you. Just a short drive away in Reading, Pa., we're an ideal choice for companies in the Tristate area. Find out more about our capabilities below.
Custom Plastic Fabrication NJ: Our Capabilities
Our custom fabrication services will transform your machined parts into finished products. Capable of complex bending and threading, our fabrication team ensures your parts are assembled and ready to go for you or your customer.
We specialize in:
Bonding
Bending
Forming
Threaded inserts
Hot stamping
Secondary assembly
Hoods
Welding hoppers
Signage prototypes
FDA protective devices
Acrylic trade show displays
Tank machinery covers
And much more!
Our fabrication equipment includes:
20" Broaching Machine: ID Keyway Broaching up to 20" diameter
Bridgeport Mill: 40" X 10" X 20" travel for manual milling
2 Heat Insert Machines
And more!
Using hot stamps, silk screening, stickers and other methods, we can brand your fabricated parts with your name or logo for a custom touch.
CNC Machining Capabilities
We're the local plastic company for precision parts machined to close tolerances, in compliance with the standards of the FDA, the Department of Defense, Aviation Standards, and others. Our machining capabilities include:
In addition, we've worked with virtually all specialty plastics available today, from PEEK to VESPEL to various ESD materials. To avoid costly missteps with expensive materials like these, you'll want our expertise on your side.
As you can see, we're capable of handling your project from start to finish, from plastic selection to CNC manufacturing to fabrication. We are a one-stop shot for precise parts.
Contact Us Today for a Free Quote!
Reach out by phone at 610-926-3245 or at site2@ReadingPlastic.com to talk to us about your project. You can also fill out our quote form online. We can't wait to start talking solutions and get started meeting your plastic fabrication needs.