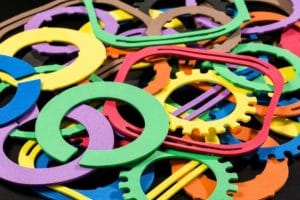 In precision die stamping, a high-speed punch press and custom steel-rule dies are used to produce extremely precise identical parts, such as washers, gaskets, seals, insulators, graphics, and more. This process allows for the creation of extremely thin products that can hold tight tolerances at high volumes. At Reading Plastic, our custom CNC machined dies deliver incredible precision and customization that our clients have come to rely on.
What are the Benefits of Precision Die Stamping?
Accuracy – The dies used in the stamping process are meticulously CNC machined to meet your specifications. All the parts are stamped off the same die, ensuring identical parts with no variation in dimensions or tolerances for the life of the tool.
Appearance – Stamped parts are created in one operation which gives the finished edges a high level of uniformity, with none of the irregularities that commonly form as the result of multiple operations.
Less waste – Precision die stamping produces less scrap material than traditional machining. If you are using an expensive material or producing high volumes, this can translate to considerable material savings.
Produce high volumes of parts quickly – The stamping process can churn out thousands to even tens of thousands of parts in a day! This allows you to deliver a competitive, high-precision part in a timely manner to meet even the most pressing deadlines.
Cost efficiency – The upfront cost of die stamping can be more expensive than machining because of the tooling costs for creating the die. However, if your part is being produced in high volumes, you will quickly recoup those costs.
Can Your Part Be Stamped?
Precision die stamping is often a cost-effective alternative to machining, particularly when thin-gauge materials and high production volumes are at play. The accuracy of CNC machining allows us to produce dies with tight tolerances and exact dimensions for reliable repeatability. There are some parts that are not compatible with stamping and have to be machined. These are typically parts with significant variations in thickness and many sharp corners. However, these parts can sometimes be re-designed for stamping manufacturability. This usually involves creating thickness consistency and eliminating sharp corners. If you are unsure whether your part can be stamped, our expert staff is here to help.
Choose Reading Plastic for Thin-Gauge Precision Die Stamping
When you need dependable precision die stamping, rely on the experts at Reading Plastic. We help you choose the right advanced material that meets the needs of your project, from color to anti-static properties to chemical resistance. Has your part never been stamped before? Our expert staff can handle the challenge. Call us at (610) 926-3245 or email site2@readingplastic.com to discuss your project today!