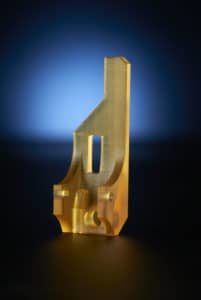 One of the most dimensionally stable thermoplastics on the market, Ultem® is part of the PEI (polyetherimide) family of thermoplastic resins. It's unique balance of processability and mechanical properties gives engineers superior flexibility and freedom in design. It is also available in a variety of grades that provide enhanced benefits such as greater chemical resistance, improved ductility and higher hydrolysis resistance. When it comes to Ultem® plastic machining, we have the expertise and state-of-the-art equipment to precision machine any grade of Ultem® your project requires.
Key Properties of Ultem®
Long term heat resistance, performing continuously to 340°
High strength and rigidity even at elevated temperatures
Excellent dimensional stability
Inherently flame resistant with low smoke generation, making it perfect for aircraft interiors
Broad chemical resistance with high resistance to acidic solutions
One of the highest dielectric strengths of any thermoplastic material
Consistent dielectric properties over a wide range of frequencies
Excellent fatigue and stress crack resistance
Superior hydrolysis resistance makes it excel in medical applications that require repeated sterilization in a steam autoclave
Grades of Ultem® for Plastic Machining
There are dozens of grades of Ultem® for plastic machining, with the most popular being Ultem® 1000 and Ultem® 2300. Ultem® 1000 is the standard, unfilled, general-purpose grade. It is resistant to UV and gamma radiation and offers high heat resistance, high strength and modulus, and broad chemical resistance up to high temperatures. It performs especially well in hot air and water environments, retaining 85% of its tensile strength after being immersed in boiling water for 10,000 hours and 100% of its tensile strength after 2,000 cycles in a steam autoclave at 270°.
The most common filled grade of Ultem® comes from their 2000 series, Ultem® 2300, which is 30% glass filled. The addition of glass fibers provides greater tensile strength, stiffness, strength-to-weight ratio, and dimensional stability, while maintaining many of the useful characteristics of basic Ultem®. Ultem® 2300 is commonly machined into parts for electrical/electronic insulators, reusable medical devices, and a variety of structural components.
Other grades of Ultem® offer more specialized enhancements for particular applications. For example, Ultem® HU1000 is biocompatible and food contact compliant, while Ultem® CRS5001 has enhanced chemical resistance to strong acids, bases, aromatics, and ketones. Ultem® DH1004 has improved ductility and enhanced hydrostability, Ultem® DU242 has enhanced low temperature impact, and Ultem® AUT200 is very low outgassing.
Reading Plastic: Your Ultem® Plastic Machining Experts
We excel at machining all grades of Ultem® plastic, no matter how technical. We are known for precision, tight tolerance machining, and all of our parts must pass a comprehensive, ISO 9001:2008 compliant quality inspection before shipping. If you're not sure which grade of Ultem® is right for your parts, call us at (610) 926-3245 to discuss your project's unique needs with one of our expert staff, and we can help match you with the right plastic for the job.