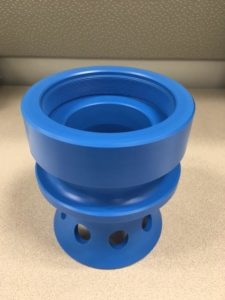 Acetal machining is useful for transforming this strong, stiff plastic into precise parts for industrial applications. One of the strongest thermoplastics, acetal is available in numerous forms, the most popular including Delrin® and Tecaform®. We're experienced in machining custom parts from each.
In this blog, learn more about acetal plastic machining, the properties of its homopolymer and copolymer forms, and common applications. Reading Plastic has been machining and fabricating precise plastic parts for decades, and we're happy to share our expertise. Request a quote on your custom acetal parts.
Acetal Machining: Properties & Applications
Since the first acetal polymer class appeared in 1956, this plastic has performed well in numerous applications due to its impressive profile of properties. It's available as a homopolymer (Delrin®) or copolymer (Tecaform®).
While acetal copolymer and acetal homopolymer are generally interchangeable since their properties are within 10% of each other, each does offer its own unique strengths:
Properties of Acetal Homopolymer (Delrin®):
Extremely stiff
Superior friction resistance
Fatigue and abrasion resistance
Solvent, fuel & moisture resistance
Creep resistance
Dimensional stability
Great machinability
Natural grade is FDA, NSF and USDA compliant
Custom acetal homopolymer parts can include fittings, gears, seals, gaskets, rollers, nozzles, bearings, bushings, nozzles and more. We're capable of machining each to extremely close tolerances.
Properties of Acetal Copolymer (Tecaform®):
High strength, toughness and stiffness
Wear resistance
Low coefficient of friction
Superior chemical resistance and flexural fatigue properties
Low moisture absorption
Excellent machinability
Dimensional stability
Natural grade is FDA, USDA, NSF and 3A Sanitary compliant
Black grade is FDA compliant
With its combination of dimensional stability, chemical resistance and low moisture absorption, acetal copolymer is ideal for many industrial and military components that involve moving parts. These can include bushings, rollers, wear strips and more.
In terms of how these two forms of acetal differ from each other, the homopolymer form is stiffer, with a higher flexural modulus and greater possibilities for elevated temperature applications. Meanwhile, the copolymer form offers improved dimensional stability, better chemical resistance with high pH solutions and lower centerline porosity in extruded shapes.
As we've mentioned, both forms offer excellent machinability.
Contact Us for a Free Quote
If you're looking to have your acetal parts machined with precision, you've come to the right place. Reading Plastic is known for plastic machining to close tolerances beyond the reach of many plastic machinists. Reach out to us today about your project: 610-926-3245!