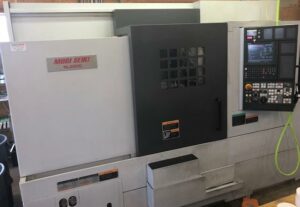 In our increasingly global world, it can be difficult to answer the question, "How do I find a high-end CNC machine shop near me?" Searching for CNC machine shops often leads to overseas providers that promise low costs but fail to deliver on quality and timely delivery. At Reading Plastic, we pride ourselves on precision machining and exacting quality standards. We have been an industry leader in machining high-quality plastic components for four decades, and our location in Reading, PA puts us within a day's drive of one-third of the U.S. population. When major metro transit systems and the U.S. military need reliable, precision parts they call Reading Plastic.
Take a Look Inside Our CNC Machine Shop
At our shop, you will find a fleet of immaculately maintained machines, including ultra-precise cutting tools and the highest level of quality control equipment. We have nearly two dozen state-of-the-art machines with capabilities in CNC milling, CNC turning, CNC routing, CNC sawing, die-stamping and more. Our milling machines can create complex geometries, tight tolerances (+/- .001), and surface finishes as smooth as 15Ra. Our saws can easily handle the toughest and most advanced plastics and can accommodate materials up to 128" in length. We excel at multi-axis lathe work in CNC turning, and our CNC routers have standard milling bits from .010" to 4.0" as well as specialty bits for advanced engineering plastics.
We are known for fast cycle times and consistently accurate results, thanks to our excellent machining practices. We have developed some of the most advanced vacuum, chuck, and vise holding techniques in the industry for superior work holding that delivers better parts. Our machines are also calibrated for ideal thermal compensation to increase repeatability, helping us achieve our signature tight tolerances with even the most advanced composite materials.
Our expert staff can also evaluate your project and help you make design changes to optimize performance, as well as select the right material for the job. We have a unique insight into how plastics perform in a variety of environments and share this expertise with our clients. We also understand that downtime is costly, which is why we fine-tune our production schedules daily to make sure your parts are delivered on time, every time. We also offer rush production and delivery for critical situations, and fabrication services so that your parts are delivered assembled and ready to use.
Need a CNC Machine Shop Near You? Choose Reading Plastic
At Reading Plastic, we can quickly produce hundreds or thousands of identical high-performance parts, no matter how intricate the part or advanced the material. All of our parts must also pass a strict ISO 9001:2015 quality inspection before shipping to ensure they meet your exact specifications, so you don't have to worry about spending valuable time and money on quality control issues.
If you have a project in mind, contact us today at (610) 926-3245 or site2@readingplastic.com. No matter how challenging your project, we can engineer a solution.