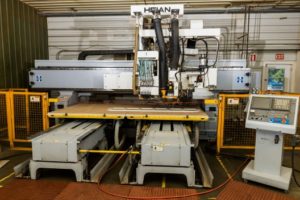 Custom CNC routing is an excellent way to produce high volumes of precise, identical plastic parts quickly. At Reading Plastic, we have been proud to offer expert custom CNC routing services for over three decades. With our state-of-the-art equipment and highly trained staff, we can quickly produce the precise, accurate parts you need, whether you need a low or high volume production run. We have machined a wide variety of custom CNC routed parts, including:
Control panels
Cutting boards
Decorative panels
Display housings
High-wear architectural features
Lighting elements
Point-of-sale displays
3 Benefits of Custom CNC Routing
Speed – "CNC" stands for "computer numerical control," which means the entire routing process is automated and controlled by computers. This allows for the fast production of hundreds or thousands of identical parts. You can count on our vacuum-secured routing system for fast cycle times and consistently accurate results.
Precision – CNC routers can deliver precise, accurate parts that exactly meet your specifications, no matter how complex the design or advanced the material. We're experts in 3D-contours, radius edges, plunge cuts, patterns and bevels. Our machines use standard milling bits from .010″ to 4.0″ to produce your job as efficiently as possible, and we are also experts at routing with specialty bits for the most advanced engineering plastics. We can also handle oversized specialty parts up to 127″ x 80″ x 9″.
Flexibility – Products often have to undergo design changes, whether it's to meet the specific needs of a customer or to improve performance. Unlike injection molding, CNC routing allows you to make changes to your design quickly and easily. This not only helps you get the new version of your design out faster; it helps you save money on tooling costs.
Custom CNC Routing from Reading Plastic
At Reading Plastic, we excel at machining advanced engineering plastics, such as PEEK, Teflon®, Vespel® and Ultem®, so that you can choose the best material for your project. All our parts must pass a comprehensive ISO 9001:2008 compliant quality inspection before they are shipped, so you can be confident in their quality and performance.
In addition to our custom CNC routing services, we also offer expert CNC sawing, milling, and turning, as well as thin-gauge die stamping. As your one-stop-shop for custom, precise plastic parts, we can even turn your machined plastic parts into assembled, finished products with custom fabrication services. From bending and threaded inserts to hot stamping and secondary assembly, we deliver finished plastic parts that are ready to use right away.
For more information about our services, call us today at 610-926-3245 or email site2@readingplastic.com.