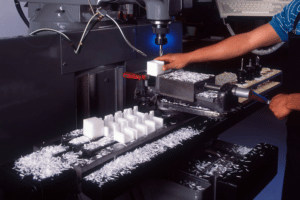 Custom plastic parts can bring your project to the next level. At Reading Plastic & Metal, we offer custom fabrication and machine services to turn your machined plastic parts into assembled, finished products. This could be as basic as snapping machined parts together, or it could require complex bending, threading, and more. If you need finished plastic parts ready for you or your customer to use right away, our fabrication team will make it happen. Need need specialty plastic items but don't have staff available to modify or assemble machined parts? Our custom fabrication and machine services may be right for you.
Specialty Custom Fabrication and Machine Services
Here are a few of the areas where we provide specialty fabrication services:
Models and demonstration materials for medical device salespeople
Display cases and architectural details for builders, schools and hospitals
FDA protective devices
Trade show displays
Machinery covers, tanks, and guards
Signs and displays
Washdown systems and components
Fabricated parts can be branded with your name or logo using hot stamps, silk screening, stickers, or other methods.
How Much is Custom Fabrication?
Depending on the industry and the particulars of a project, precision-engineered materials with certain properties may be needed to meet the demands and priorities for the specific application. Let's examine some of the most common influencers of custom components pricing.
Ease of machinability of the selected material – As a general rule, the less easily machinable a part is, the more it will cost to produce. Further, if special safety precautions are needed in order to fabricate a material due to it being potentially hazardous, this will raise the price of machining it.
Part size/shape – Typically, smaller, simpler parts are more affordable because they require less material and time to produce. Larger parts and those with more complex geometries – thus requiring more advanced processes/machinery and/or more specialized machinists – will inevitably come at a higher cost.
Extra treatments – For certain applications, parts may need treatments like anodizing, heat treatment or surface finishing. These additional requirements will add to the final cost since they take more time, labor and machinery to complete.
Project deadline – To meet a short deadline, shipping will almost undoubtedly cost more than if the project schedule is more flexible and expedited shipping isn't necessary.
While not an exhaustive list, these are some of the biggest determining factors in pricing for creation of custom machined parts.
Trust Reading Plastic & Metal for your Custom Fabrication and Machine Services
Trust us to produce and deliver the original or replacement parts you need – quickly, reliably and cost-effectively. Call us at 610-926-3245 to discuss your project and priorities for your custom plastic or metal components with one of our specialists.