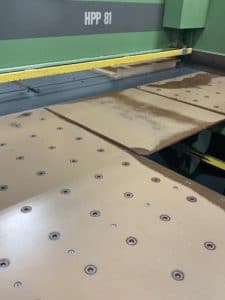 In the manufacturing world, speed often comes at the expense of quality. But at Reading Plastic, we offer fast plastic parts that still deliver a high degree of quality and precision. As an industry leader in tight tolerances, we've been providing precise, dependable plastic parts to our customers for over three decades. No matter how complex the part or demanding the application, we can quickly machine a solution.
Why Clients Trust Reading Plastic for Fast Plastic Parts
Commitment to quality and precision – At Reading Plastic, we're accustomed to meeting strict quality standards, such as FDA, Department of Defense, and FAA standards. All of our parts must pass a comprehensive, ISO 9001:2008 certified quality inspection, and every job undergoes our rigorous quality assurance testing process before shipping.
Advanced material selection – We offer a wide range of plastic materials, including those specially designed for harsh environments and demanding applications. Our staff also has hands-on knowledge about how the materials perform in all sorts of settings, and we pass that knowledge on to our clients. No matter how challenging the application, our expert staff can source and machine the right plastic for the job.
Location – Our shop in Reading, PA is conveniently located within a day's drive of a third of the U.S. population, which means we can deliver your parts quickly and without the expense of international shipping. We fine-tune our production schedules daily to make sure our parts are always on time, and we offer rush production and delivery for critical situations.
State-of-the-art equipment – At our shop you will find immaculately maintained machines, ultra-precise cutting tools, and the latest technologies. We are always increasing our capabilities to better serve our clients, such as adding a new Mycenter-2XD "Sparkchanger" Vertical Machining Center to our fleet. This machine is a breakthrough solution for all of your small to medium high-volume production part processes. We have also added our first horizontal machining center, the NHX 4000 3rd Generation. This machine enables high-efficiency, continuous machining and mass production capabilities.
Expert CNC services – As a high-end machine shop, we offer a full range of CNC services. Our CNC turning excels at multi-axis lathe work and holding extremely tight tolerances of +/- .001". Our CNC routers can handle oversized specialty parts up to 127″ x 80″ x 9″, and our vacuum-secured routing system turns out hundreds or thousands of identical parts fast. We have standard milling bits from .010" to 4.0" and are experts at routing with specialty bits for the most advanced engineering plastics. Our CNC saws combine ultra-fast cutting speed and pinpoint accuracy to deliver perfectly shaped pieces on tight deadlines and can cut even the most technical plastics. And our CNC milling machines are capable of extremely tight tolerances of +/- .001, surface finishes as smooth as 15Ra, and complex geometries.
If you need fast plastic parts, contact the experts at Reading Plastic today: (610) 926-3245 or site2@readingplastic.com.