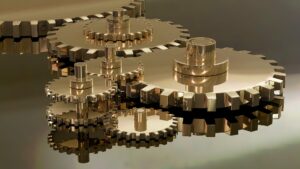 When searching for a gear manufacturer near you, it's important to look for a company that offers precision machining, high quality standards and fast shipping. With over three decades of experience, Reading Plastic can deliver the metal or plastic gears you need on time and on spec. We excel at precision CNC machining of advanced engineering plastics and metal (brass, copper, aluminum and stainless steel), and all of our parts pass a thorough ISO 9001:2015 certified inspection before shipping.
Because we are based in the USA, you can be certain your gears will arrive quickly and not experience the typical delays of international shipping. Our shop in Reading, PA is within a day's drive of one-third of the US population and we fine-tune our production schedules daily to make sure our parts are always on time. We even offer rush production and delivery for critical situations.
We Machine a Wide Variety of Gears
Spur gears – A necessary and vital part of many applications, spur gears are the most common type of gear. They are used in everything from washing machines to alarm clocks, and they can be mounted in series on parallel shafts to achieve large gear reductions. When the teeth of spur gears engage and collide they tend to be loud and cause vibration, so they are not typically used in machinery that requires quiet operation (such as cars).
Helical gears – These gears are a type of cylindrical gear that have a slanted tooth trace. They have a smoother operation than spur gears because the angle twist provides a larger contact ratio and instant contact with the gear teeth. Helical gears excel in quietness and low vibration and are able to transfer large force.
Bevel and miter gears – Bevel gears are gears where the axes of two shafts intersect and the tooth-bearing faces of the gears themselves are conically shaped. They are typically mounted on shafts that are 90° apart, but they can be designed to work at other angles as well. Miter gears are a type of bevel gear where the two rotational axes intersect. Bevel gears can have straight, hypoid or spiral teeth, but straight teeth have a large impact when engaged and thus have similar characteristics to spur gears. When the teeth are cut on an angle, contact is gradual, providing a much smoother and quieter operation than spur gears. Bevel gears are most commonly used in transmissions because they can generate large amounts of thrust.
Worm gears – These gears are often used in large gear reductions. Worm gears have an inherent safety mechanism built-in to their design because they cannot function in reverse – i.e., the worm can turn the gear, but the gear cannot turn the worm. As a result, they can be found in applications such as conveyor systems where this locking function can act as a brake or an emergency stop.
Reading Plastic: a Trusted Gear Manufacturer Near You
When you need a local gear manufacturer you can trust for quality and precision, call the team at Reading Plastic. We can make all the original and OEM gears you need in a timely, cost-effective manner. We can handle any production volume you need, from prototyping to large runs. We can also convert your gears from metal to plastic to increase efficiency and part life.
No matter how tough the application, our gears are up to the challenge. Contact Reading Plastic today at 610-926-3245 to see why we're an industry leader in precision part production. You can also reach us at site2@readingplastic.com or by filling out our contact form.