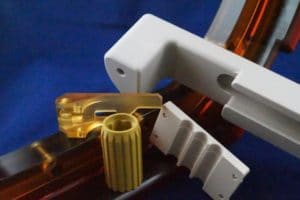 Torlon® is a high-performance, non-crystalline engineering thermoplastic that provides reliable strength and performance at high temperatures. Its unique combination of properties makes it ideal for the most extreme and punishing environments, such as racecar engines and NASA's space shuttles. At Reading Plastic, we have an excellent track record of producing precision parts that hold tight tolerances from the most advanced engineering plastics. When it comes to machining Torlon®, we have the technical and manufacturing expertise to machine and fabricate custom Torlon® parts to your exact specifications.
Torlon®'s Superior Properties
As a polyamide-imide (PAI), Torlon® is the highest-performing melt-processable plastic and is ideal for applications that require strength and stiffness at extreme temperatures. Parts machined from Torlon® can outperform most advanced engineering plastics by a wide margin. Torlon® is extremely durable and offers excellent wear and impact resistance. Certain glass-reinforced and carbon-fiber-reinforced grades can further improve stiffness while also advancing thermal expansion properties. Other key properties of Torlon® include:
High flexural and tensile strength – Certain Torlon® grades have a flexural strength of 24,000 psi and tensile strength of 18,000 psi
Excellent thermal properties – Torlon® has a heat distortion and continuous service temperature of 500ºF. In fact, at 400ºF it can outperform many engineering resins at room temperature.
Chemical resistance – Torlon® is resistant to aliphatic and aromatic hydrocarbons, most acids, and chlorinated fluorinated hydrocarbons at most temps. It is also resistant to aviation fluids such as MEK and Skydrol hydraulic fluid.
A high creep resistance and extremely low coefficient of linear thermal expansion means Torlon delivers superior dimensional stability over its entire range of use.
Machining Torlon® for Demanding Applications
At Reading Plastic, we've been machining high-quality parts for both private and government clients for over four decades. No matter the size of your run, we will deliver your parts on time and in compliance with all standards and specifications. With our ultra-precise cutting tools, we can produce parts that hold precise tolerances of +/- .001". We provide superior CNC services in:
CNC Routing – Our vacuum-secured routing system allows us to turn out hundreds or thousands of identical parts fast. With standard milling bits from .010" to 4.0", we're prepared to do the job as efficiently as possible.
CNC Milling – Our computer-driven CNC milling machine is capable of extremely tight tolerances and surface finishes as smooth as 15Ra, and can handle even advanced thermoplastics like Torlon®.
CNC Sawing – No matter how advanced or technical the plastic, our experts can cut raw sheets, tubes and bars to minimize material waste.
CNC Turning – We excel in multi-axis lathe work that produces extremely tight tolerances. We use the latest CAD/CAM software and techniques to produce world-class precision-turned parts.
If you have a project that involves machining Torlon® parts, reach out to us today at 610-926-3245 or at site2@readingplastic.com. We are confident that we can machine the precise Torlon® parts you need.