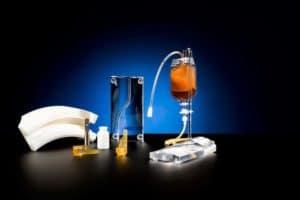 The incredible advances we've seen in medical devices and equipment over the last few decades are due in large part to specialty plastics and the development of medical machining. Precise CNC machining allows for a high degree of accuracy and repeatability, and can produce parts with extremely tight tolerances. Medical machining can also accommodate specialty plastics with unique properties, such as high strength and stiffness and extreme heat resistance. As an industry leader in tight tolerances and CNC machining for over three decades, Reading Plastic can produce specialty plastic components for medical, pharmaceutical, and biotechnology applications.
6 Reasons to Choose Reading Plastic for Medical Machining
We excel at medical grade plastics – We offer the widest range of life science and advanced materials grade plastics. These plastics are highly durable, able to withstand repeated use and rigorous sterilization techniques, from steam to autoclaves to chemical baths and beyond. We can machine everything from biocompatible plastics to medical grade PEEK, and our plastics experts can help you choose the right specialty plastic for your application.
Tight tolerances are our wheelhouse – When it comes to medical devices, precision is key. Medical professionals depend on the accuracy of their instruments to deliver the best care possible to their patients. At Reading Plastic, we pride ourselves on our ability to machine parts that hold precise tolerances of +/- .001".
Expert CNC machining services – At our shop in Reading, PA, you will find immaculately maintained machines, ultra-precise cutting tools, and the highest level of quality control. Our precise CNC services include milling, turning, routing, and sawing.
Exacting standards – We have been machining to strict standards for over 30 years, including FDA standards. We are also ISO 9001:2008 compliant, so you can count on our quality and management. Every job undergoes our rigorous quality assurance testing process, including 3D measurement, optical comparator review, digital microscopic review, and more.
Over three decades of experience – At Reading Plastic, we keep up with the ever-changing needs and regulations of the medical industry. With state-of-the-art equipment and knowledgeable staff, we provide our clients with dependable high-quality medical machining. We frequently machine parts under non-disclosure agreements for both private industry and government clients, so you can trust us with any sensitive project.
Custom fabrication – We offer custom fabrication services to turn your machined parts into assembled, finished products. Whether you are facing time or staffing constraints, our fabrication team can help you deliver a finished end product. Our specialty fabrication services include FDA protective devices, washdown systems and components, and models and demonstration materials for medical device salespeople.
If you need expert medical machining, call Reading Plastic at 610-926-3245 or request a quote today!