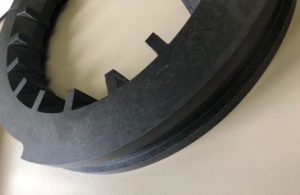 PEEK (polyetheretherketone) is one of the most popular thermoplastics on the market. That is because, with its excellent combination of properties, the list of PEEK plastic uses is virtually endless. PEEK plastic parts can be found in almost every industry, including aerospace, food and beverage, medical, marine, and electronics. PEEK is available in a variety of grades that offer enhanced benefits to meet your particular needs.
General Properties of PEEK
PEEK is an excellent choice for applications that require superior thermal, chemical, and combustion properties. It is resistant to radiation and a wide range of solvents, and can withstand the boiling water and superheated steam used to sterilize medical equipment. Other key properties include:
Very low moisture absorption
Low smoke and toxic-gas emissions
Superior creep resistance
Continuous service temperature of 500ºF
Excellent fatigue and stress-crack resistance
High chemical resistance
PEEK Grades and Their Benefits
Unfilled PEEK – This unreinforced, general-purpose grade offers the greatest elongation and toughness of all PEEK grades. It is water and steam resistant, and is well suited for components that require inertness and ductility. FDA-approved for repetitive food contact, unfilled PEEK comes in a variety of colors to provide pleasing aesthetics.
30% Glass-Fiber Reinforced PEEK – Glass-fiber PEEK maintains the higher strength and stiffness of unfilled PEEK while reducing the expansion rate and increasing the flexural modulus (resistance to bending). This PEEK grade also has excellent electrical and thermal insulation characteristics. Glass-fiber PEEK plastic uses typically include structural applications and high load parts that require superior stiffness, strength, and stability.
30% Carbon-Fiber Reinforced PEEK – This PEEK grade has the highest strength and stiffness properties and offers outstanding wear resistance and load-carrying capabilities. It contains more reinforcement per unit volume than glass-filled PEEK, but is 7% lighter. With 3.5 times higher thermal conductivity than unfilled PEEK, carbon-fiber PEEK allows heat to dissipate from bearing surfaces faster, improving bearing life and capability.
Bearing Grade PEEK – Incorporating carbon fiber, graphite, and PTFE, bearing grade PEEK has the lowest wear rates, lowest coefficient of friction, and the best machinability of all PEEK grades. This combination provides higher PVs and low mating part wear, making it ideal for demanding wear applications
Get the Most from PEEK with Reading Plastic Machining & Fabrication
The superior cleanliness and machinability of PEEK make it the perfect polymer for complex machined parts – such as gears, ferrules, and medical components – that require tight tolerances. At Reading Plastic, our expert machinists can CNC manufacture your PEEK plastic parts to meet all your tolerance and compliance needs. To learn more about PEEK plastic uses and how PEEK can benefit your next project, call us today at 610-926-3245.