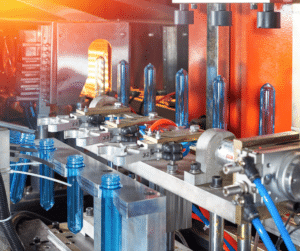 Does your next project call for UHMW parts? With decades of experience and a passion for plastic, Reading Plastic & Metal is your go-to for any plastics production. UHMW plastic is the highest quality polyethylene (PE) available, with extreme toughness and high abrasion resistance that makes it perfect for a wide range of applications, from hip and knee replacements to skis and snowboards. It is also used in hydraulic seals and bearings, body armor, high speed conveyors, dock bumpers, and chute linings. With an absorption rate of less than .01%, UHMW is popular for marine applications, as well as applications that require exposure to high levels of moisture and humidity. There are several grades of UHMW available, including grades for enhanced bearing and wear, and grades that are FDA compliant.
What is UHMW Plastic?
UHMW stands for Ultra High Molecular Weight. This high-density polyethylene resin has a molecular weight ranging from 3 to 6 million, compared to 300,000 to 500,000 for high molecular weight (HDPE) resins. An ultra high molecular weight gives this plastic a unique combination of high abrasion resistance and impact strength along with a low coefficient of friction, allowing it to outperform lower density plastics. But this high weight means it will not melt or flow as a molten liquid, which is why UHMW can't be processed through injection molding or thermoforming.
Why choose UHMW Plastic?
Some perks to UHMW parts include:
Low coefficient of friction
Self-lubricating
Extremely low moisture absorption
Odor and stain resistant
Suitable for machining and fabrication
Highest impact strength of any thermoplastic
Resistant to UV radiation and micro-organisms
High abrasion resistance (up to 15 times that of carbon steel)
High wear resistance, especially in contact with metals
Noise reduction
Good chemical resistance (very resistant to corrosive chemicals, concentrated acids and alkalis, as well as many organic solvents)
Corrosion resistant
Performs well in extremely low temperatures (-482°F)
Choose Reading Plastic & Metal for your UHMW Parts
If you have a project that requires UHMW parts, contact Reading Plastic today at (610) 926-3245 or site2@readingplastic.com. We look forward to working with you!