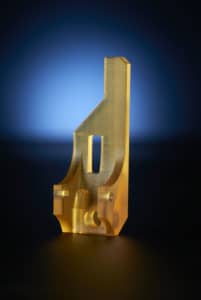 When choosing the right high-performance plastic for an application, understanding the differences between similar polymers can help you make a decision based on which properties are most crucial to your part's performance. For parts that require superior strength and durability, Ultem and PEEK are at the head of the class. Deciding on Ultem vs. PEEK often comes down to two key factors: cost and operating temperatures. However, the similarities and differences between these advanced plastics are more nuanced than they may first appear.
Ultem vs. PEEK: Two Powerhouse Polymers
Ultem is part of the PEI (polyetherimide) family of thermoplastic resins. It has a unique balance of mechanical properties and processability that gives engineers superior flexibility and freedom in design. Ultem is also available in a variety of grades that provide enhanced chemical, heat, and elasticity benefits. The most common grade is Ultem 2300, which is commonly machined into parts for electrical/electronic insulators, reusable medical devices, and a variety of structural components. The entire Ultem 2000 series is reinforced with glass fiber for greater tensile strength, stiffness, strength-to-weight ratio, and dimensional stability.
PEEK (polyetheretherketone) is a high-performance plastic polymer and one of the most popular thermoplastics available. Thanks to its excellent combination of properties and highly stable chemical structure, PEEK's applications are nearly limitless and PEEK plastic parts can be found in virtually every industry. There are also a variety of PEEK grades available that offer enhanced benefits to meet specific needs. These include bearing-grade PEEK, with the lowest wear rates and coefficient of friction for demanding wear applications, and carbon-fiber reinforced PEEK, which has the highest strength and stiffness properties for outstanding load-carrying capabilities.
Both polymers offer:
Hydrolysis resistance
Dimensional stability
Long-term heat resistance
High strength and stiffness
Broad chemical resistance
Low smoke generation
Excellent fatigue and stress crack resistance
Ultem vs. PEEK
Cost – The biggest difference between these two plastics is cost. PEEK is one of the most expensive polymers on the market, while Ultem offers similar properties at a much lower cost.
Heat resistance – Ultem offers continuous use up to 340ºF, but PEEK has a melting point over 700ºF and can operate faithfully at 500ºF without deforming. This makes PEEK well worth its price for high-load, high-temperature applications.
Processability – Ultem is easily processed, whereas PEEK's high temperature resistance can make it difficult and expensive to process. However, in its solid state, PEEK is readily machinable by CNC milling machines.
Chemical resistance – Both polymers offer superior chemical resistance, but PEEK stands out as only being dissolvable in concentrated sulphuric or nitric acid.
PEEK has better friction and wear properties while Ultem has one of the highest dielectric strengths of any thermoplastic.
Reading Plastic: Your Advanced Plastics Experts
At Reading Plastic, our experienced and knowledgeable staff can assess the needs of your application and help you weigh the benefits of Ultem vs. PEEK or any other polymer you are considering. Call us today at (610) 926-3245 to discuss your project needs.