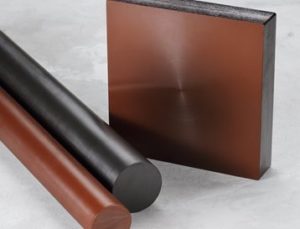 When selecting a material for high-performance bearings, Vespel® is often the top choice. That is because Vespel® bearings offer unique capabilities in high-friction applications that most high-end materials can't surpass. Combining the best properties of ceramics, metals and plastics into one, Vespel® bearings offer unique strengths for superb performance and proven reliability.
What Makes Vespel® Bearings So Effective?
Vespel® encompasses a range of high-performance polyimide-based plastics, characterized by a ring-shaped molecular structure containing nitrogen. Used for the toughest sealing, wear or friction applications, Vespel® can withstand the harshest operating conditions on the planet, thanks to its advanced properties:
Heat resistance – Vespel® can serve at temperatures up to 550ºF and can even endure temperatures up to 900ºF for limited periods.
Low friction and superior wear performance – For applications that require sliding contact (with or without lubrication), Vespel® provides a low wear rate and a low, constant CF. Vespel® parts can even run dry, should lubrication fail.
Impact resistance and strength toughness – Vespel® can withstand high-frequency vibration, cleaning cycles, repeated handling, and mechanical abuse.
Chemical resistance – Vespel® is highly resistant to chemical corrosion, showing no effect in response to industrial hydraulic fluids, fuels, solvents, and numerous other materials.
Tight tolerances – Compared to other polymers, Vespel® can easily hold close tolerances.
Lightweight – If you need to reduce weight, Vespel® can replace metal, standard ceramics, and other engineering plastics without compromising strength.
Vacuum applications – Unlike most plastics, Vespel® doesn't outgas, even at high temperatures, so it can operate in a vacuum without contaminating the environment.
Machinability – Vespel® can easily be machined to achieve complex geometries and tight tolerances. This allows for the creation of designs that would be impossible with lesser materials.
While it is one of the most expensive polymers on the market, Vespel® bearings often pay for themselves by increasing the lifespan and reliability of parts and reducing maintenance costs. Vespel® parts are often destined for harsh environments, such as aircraft parts, centrifugal pump parts, actuator guide bearings, and more. The unique combination of Vespel®'s properties gives it an advantage over other polymers in extreme environments.
Reading Plastic Can Machine Any Vespel® Bearings
Over the last four decades, Reading Plastic has become a leader in plastic machining and fabrication. We pride ourselves on our reputation for quality, precision and craftsmanship, and enjoy cultivating long-lasting relationships with our clients. If you need precision machined Vespel® bearings, call the experts today at 610-926-3245.