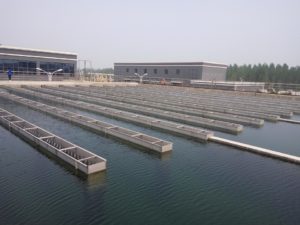 Waste water treatment parts need to have a low coefficient of friction, extremely high wear and chemical resistance and zero water absorption, making high-performance plastics the perfect material for these critical parts. With four decades of experience machining and fabricating precise plastic parts, Reading Plastic can produce the bearings, sprockets, wear shoes, and other waste water treatment parts you require.
OEM and Custom Waste Water Treatment Parts
Equipment failures are a headache, but the problems they cause increase exponentially the longer you wait for replacement parts. If you're tired of slow overseas shipping and domestic production backlogs, Reading Plastic is your solution. We can make and deliver replica OEM parts without the wait, getting your critical machinery operational in a fraction of the time.
Have a mystery part or one that is no longer manufactured? We can reverse engineer any OEM plastic part, giving you a ready source of replacements for the future. Our wear-resistant, low-friction plastic parts facilitate less downtime, higher production totals, and reduced machine overhead costs.
Waste Water Treatment Screens that Excel
High-performance systems that provide a high capture rate of waste water solids use screens at the headworks of the treatment plant to produce a discharge that is remarkably clean and ready for disposal. By removing unwanted solids at the headworks of the treatment plant, the entire facility can operate more reliably.
Many of these screens – both fine and coarse – use UHMW plastic instead of traditional stainless steel. UHMW (Ultra-High Molecular Weight Polyethylene) is a lightweight and long-wearing plastic material that is commonly used to replace metal parts. It offers excellent abrasion and impact resistance, is easy to machine, self-lubricating, and has a very low coefficient of friction. This makes UHMW a more effective material for capturing, removing, and cleaning waste water debris.
Durable and Reliable Waste Water Treatment Parts
High-performance plastics – including oil-filled nylon, fully recyclable UHMW and close-tolerance acetal – are proven, effective materials for waste water treatment parts. They offer higher-impact and more abrasion-resistant properties than most engineered polymers, and can withstand the aggressive chemicals used in the treatment process, increasing the reliability and safety of the equipment involved.
At Reading Plastic, we can machine and fabricate high performance plastic parts for:
Low-friction liners
Conveyors
Headworks
Sewage grinders
Sludge thickeners
Compactors
Auger presses
Sidehill and other parabolic screens
Dewatering machinery and other process equipment
Wear and power transmission parts for pumping stations
For waste water treatment parts that can withstand the harshest sludge and contaminated water environments, contact Reading Plastic today at 610-926-3245 or site2@readingplastic.com.