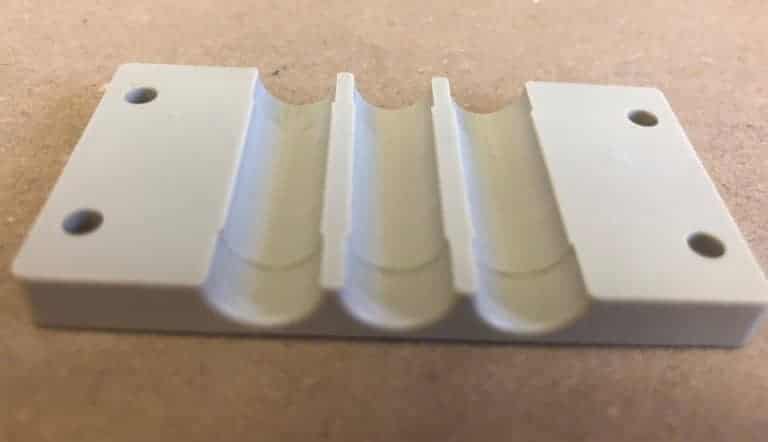 When it comes to applications that require high-performance plastic, PEEK is often a top recommendation. You may be wondering, what is PEEK plastic and why is it so popular? We often refer to PEEK as the "powerhouse polymer" because of its unique combination of outstanding properties that make it suitable for a wide array of uses across nearly every industry.
What is PEEK Plastic?
PEEK stands for "polyetheretherketone," making it part of the broader family of ketone polymers. The unique chemical structure of this thermoplastic makes it incredibly strong and dimensionally stable both under load and in the harshest environments. The key characteristics of PEEK plastic include:
High temperature resistance – Serves continuously at temperatures of 500° F and has a melting point of over 700ºF
High tensile strength (16,000 psi) and high flexural strength (25,000 psi)
Very low moisture absorption
Excellent fatigue, stress-crack, and creep resistance
Excellent electrical properties
Good wear and abrasion resistance
Outstanding chemical resistance – Unfilled PEEK offers broad chemical resistance that approaches that of PTFE, but with far greater strength
Biocompatible – With a high strength and modulus that approximates human bone, PEEK is often used for spinal implants and skull reconstruction
PEEK plastic is also available in a variety of grades that offer enhanced properties for specific use. For example, glass-fiber-reinforced PEEK has a reduced expansion rate, increased flexural modulus, and excellent electrical and thermal insulation characteristics. Likewise, carbon-fiber-reinforced PEEK has the highest strength and stiffness properties; outstanding wear resistance and load-carrying capabilities; and higher thermal conductivity.
PEEK plastic ranks high for:
Clients are often surprised at the cost of PEEK plastic, as it is one of the most expensive polymers on the market. But this cost is a reflection of its quality. Due to PEEK's high temperature resistance and high tensile strength, PEEK plastic machines more like a metal than a polymer. This can make it difficult and costly to process through methods such as injection molding, but in its solid state PEEK is readily machinable by CNC milling machines.
What is PEEK Plastic Used For?
PEEK plastic is suitable for a wide array of applications, such as:
Semiconductors and electronics
Oil & gas components
Aerospace parts
Medical devices and implants
Food appliances and packaging
And much more
Choose Reading Plastic M&F for Expert CNC Machining of PEEK
At Reading Plastic, our expert staff and state-of-the-art equipment can produce precise PEEK plastic parts that hold tight tolerances and can perform in the most demanding applications. For more information or to receive a quote, call us at 610-926-3245 or send an email to site2@readingplastic.com today.