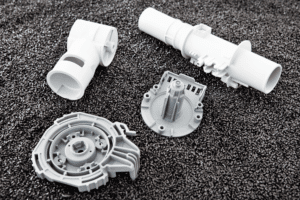 Reading Plastic & Metal offers CNC plastic machining services that specialize in tight tolerances and advanced materials. Our machines can handle even the most technical plastics, including PEEK, Ultem®, and Vespel®. Our decades of experience working with specialty plastics give us hands-on knowledge about how these materials perform in all sorts of settings, and we pass that knowledge on to you. Combine our expertise with our values, and it's clear why Reading Plastic & Metal is the best CNC plastic parts supplier for your next project.
Plastic vs. Metal Parts
While we provide both plastic and metal machining services, sometimes one material fits the job better than the other. That's where our years of experience comes in—our team can help find the perfect plastic or metal to fit your project, industry, and standards.
Parts consolidation – Multiple metal parts can often be redesigned into a single plastic part. Reducing the number of parts also reduces the need for fasteners and assembly.
Weight reduction – Most plastics are about six times lighter than zinc and have a lower density. Lightweight parts mean greater ease of use and reduced fuel consumption.
Labor savings – Plastic parts often require minimal assembly and can reduce the need for secondary operations such as welding, painting, and laser marking.
Performance – Many plastic polymers offer resistance to impact, flame and chemical resistance and are also non-conductive, empowering your parts to perform better in critical applications.
Plastic Part Materials
We offer a variety of types of plastics to choose from for your particular parts. With each plastic having different strengths and capabilities, here is a list of plastics and their most common applications and industries:
PPSU (polyphenylsulfone) plastic is an amorphous thermoplastic known for its superior impact strength and exceptional hydraulic stability. It is commonly used in the medical and aerospace industries.
PEEK (polyether ether ketone) is a semicrystalline thermoplastic with exceptional mechanical and chemical resistance properties. It is uniquely compatible with ultra-high vacuum applications commonly used for parts in the aerospace, automotive and chemical industries.
Teflon®, or PTFE (polytetrafluoroethylene), is a powerhouse synthetic fluoropolymer that has outstanding chemical resistance, excellent performance in extreme temperatures, and low outgassing properties. Teflon is in high demand in the aerospace, industrial, food and beverage, and textile and biomedical industries.
Ultem®, or polyetherimide, is an advanced plastic that is often used in specialized applications where superior resistance to heat, liquid or electrical current is required. Some common applications include analytical instruments, aircraft components, medical devices, semiconductor parts, and underwater connectors.
Kynar®, or PVDF (polyvinylidene fluoride) is a thermoplastic that is commonly used in pipes and fittings to satisfy plumbing needs across many industries.
Trust Reading Plastic & Metal as your Go-To CNC Plastic Parts Supplier
When you need plastic mechanical parts that deliver high performance and exceptional quality, look no further than Reading Plastic & Metal. Contact us today at (610) 926-3245 or site2@readingplastic.com.