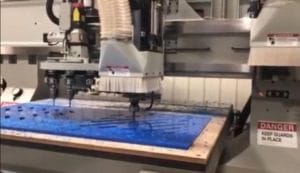 Whether you're looking to have a prototype made or need high volume production, Reading Plastic & Metal has the answer with our precision CNC machining services. In addition to the ability to adhere to the strictest standards, the CNC process is scalable, cost-effective, and reliable. Our state-of-the-art equipment rapidly produces the most accurate and durable parts for every type of industry.
Benefits of CNC Machining
Computer numerical control (CNC) machining does not require a manual operator but instead uses programmed instruction to process material to meet a set of specifications. The result is made-to-order, highly exact parts.
CNC machining offers many advantages, including:
Increased speed and efficiency of production – CNC machining decreases the number of steps needed to generate each part, so production time for large quantities is reduced. You get your parts faster, and any changes to the part design are simple and quick. With quality assurance protection built into the machines, any problems are promptly detected and resolved.
High precision and enhanced repeatability – CNC machines are tireless in producing accurate, consistent cuts for the most complex products requiring very tight tolerances. They also have to ability to handle long production runs while maintaining consistency.
Reading Plastic & Metal Stands Out in CNC Precision Machining Services
Numerous businesses have relied on Reading Plastic & Metal for superior craftsmanship of vital components used for a vast array of purposes throughout the U.S. and abroad. They can be found in defense systems, labs, telecom equipment, and many other products.
We work with advanced materials and can handle even the most intricate designs that require extreme accuracy. Our precision CNC manufacturing services include routing, turning, milling, turning, and cutting. Before we ship any orders, we follow rigorous quality control standards with ISO 9001:2015 certification for all parts.
Trust Reading Plastic for Your CNC Machining Needs
Reading Plastic & Metal has extensive experience with the most intricate, delicate parts and demanding applications. We focus on quality in every aspect of our work, giving diligent attention to all our customers and every part we make. We'd love to work with you on your upcoming project. Contact us today at (610) 926-3245 or site2@readingplastic.com.