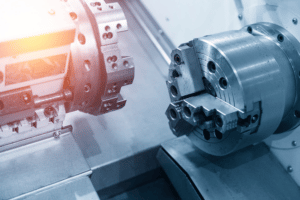 Reading Plastic & Metal is a world-class CNC turning company for advanced engineering plastics. We specialize in multi-axis lathe work that holds tight tolerance standards, up to .001″. We'll create your sprockets, gears and augurs from any specialty plastic you request. Precision threading is available in ANSI, ASME, metric and variable pitch threads. We use the latest CAD/CAM techniques and software to turn your designs into reality. Clients in material handling, chemical processing, industrial machine manufacturing and more trust our precision-turned products. We're also an experienced producer of OEM replacement parts.
Benefits of CNC Turning
For complex parts and components, CNC turning is essential.
Extreme precision: CNC turning services deliver pinpoint accuracy no matter the size of the production run, so you can be certain every component is identical and on-spec.
Time efficiency: CNC turning machines also produce parts quickly and efficiently, helping you meet tight deadlines while staying on budget.
Diversity: These machines are also extremely flexible in their capabilities, allowing them to produce a diverse variety of parts in a short amount of time.
Common CNC Turning Materials
We provide precision CNC turned parts from a wide variety of advanced engineering and specialty plastics, such as PEEK, PTFE, and Vespel®, as well as metals such as stainless steel. With decades of machining experience, we know how to handle each individual material to ensure it meets the strictest quality standards. Our team uses the best machining practices to prevent defects, cracks, and excessive waste during machining.
Reading Plastic & Metal is the Top Choice CNC Turning Company
At Reading Plastic, we are constantly upgrading our fleet of CNC machines to deliver superior parts to our clients. Our dual spindle turning centers provide increased productivity as well as improved part quality and consistency by decreasing the number of times a part is handled. With dual spindle machines, parts are automatically transferred within the machine for secondary operations. This reduces the number of machines needed to complete a part, as well as the amount of time it takes to machine a part.
For supercharged efficiency, our Miyano BNA-42S has a unique control system that decreases non-cutting time by 27%, allowing us to produce parts faster than ever before. It can also hold tighter tolerances than previous models. One of our clients needed a part with tolerances of +/-.0002 with no sharp edges and 100% burr free. No one else could get the job done, but Reading Plastic delivered. If you need precision-turned parts, give us a call. Contact Reading Plastic & Metal today at (610) 926-3245 or site2@readingplastic.com to discuss all your project needs.