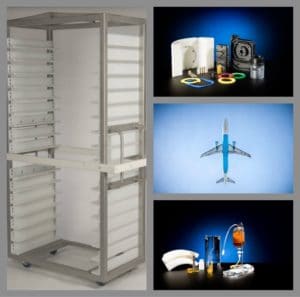 Precisely machined plastic parts can be found in nearly every industry on the planet, thanks to plastic's superior properties that provide benefits in a wide range of challenging applications. With custom plastic machining, advanced engineering plastics can be transformed into high-strength, lightweight parts capable of holding tight tolerances under the most extreme conditions. As a trusted plastic parts manufacturer for nearly four decades, Reading Plastic has helped clients create better products, lower manufacturing costs, and break new ground in their industries.
AGRICULTURE
Experts estimate that U.S. agriculture uses about a billion pounds of plastic every year. That is because plastics offer numerous agricultural benefits, such as retaining moisture and limiting sunlight in arid regions, reducing competition from insects and weeds, and conserving natural resources. Plastic parts can be found in everything from irrigation systems and greenhouse covers to augers and spray tanks.
AVIATION/AEROSPACE
The use of aerospace plastic components has quadrupled since 1970, mainly because plastics offer the same strength as metal at a fraction of the weight. Reducing an aircraft's weight leads to considerable fuel savings: for each pound of weight reduced on a plane, $1,000 of fuel is saved over the lifetime of the aircraft. We have built a wide array of aircraft parts and are fully compliant with all FAA standards.
FOOD AND BEVERAGE
Custom plastic machining helps improve compliance in the food and beverage industry because FDA food-grade plastic parts work harder and longer than metal counterparts. This improves efficiency, reduces maintenance costs, shortens certification time, and even lengthens shelf time. Machined plastic parts are perfect for use in augers, rollers, hoppers, chute liners, and more.
MEDICAL
Specialty plastics have been revolutionizing the medical industry because they can be machined into complex designs, offer lightweight yet high strength alternatives to metal, and can withstand rigorous and repeated sanitizing. At Reading Plastic, we excel at medical grade plastics and tight tolerance machining, and also keep up with the ever-changing needs and regulations of the medical industry to ensure your parts will meet FDA standards.
MILITARY
Military components require a high degree of precision that is easily achieved through CNC machining of advanced plastics. Their durability, flexibility of design, ability to withstand harsh conditions, and electromagnetic shielding help make military aircraft and vehicles safer, and can meet demanding Department of Defense standards.
OIL & GAS
Custom plastic machining is ideal for creating components that can withstand the high pressures, extreme temperatures, heavy loads, and abrasive chemicals that define the oil and gas industry. Specialty plastics not only minimize risk and maximize reliability, they comply with the high standards of the ASME, ISO, Norsok, NACE, and API.
SEMICONDUCTOR/ELECTRONICS
The semiconductor and electronics industries are among the fastest growing sectors and require a high degree of precision and reliability. Plastic components help make products more durable and compact, and can even enable them to survive repeated ESd events.
TELECOM
Some of our biggest clients are telecom companies looking to cut downtime and create faster, more reliable networks with stronger, longer lasting, and more effective parts. With high resistance to heat and corrosion, static-dissipative properties to prevent damage to sensitive circuitry, rapid production, and other properties, specialty plastics are helping telecom companies stay competitive.
WASTE TREATMENT
Wastewater treatment plants are challenging environments due to constant moisture and severe chemical processes. The low porosity and high chemical resistance of plastics keeps them from absorbing the heavy presence of contaminants, helping produce safer, more efficient waste treatment facilities. Common custom plastic machined parts include valves, screens, rollers, and more.
Trust Reading Plastic for Custom Plastic Machining
While we specialize in the industries above, we also help visionary engineers create new industries from scratch. If you have a project that needs to be brought to life, contact us today at 610-926-3245. No matter the size or complexity of your project, our team has the knowledge and skill to engineer a solution.