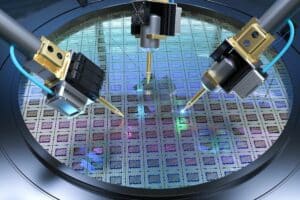 In the ever-evolving landscape of technology, semiconductors play a pivotal role in powering the devices and systems we rely on daily. As industries demand smaller, lighter, and more efficient solutions, custom plastic semiconductors have emerged as a driving force in innovation. This blog will explore the significance of custom plastic semiconductors and how Reading Plastic and Metal, a leading engineering solutions provider, is at the forefront of delivering cutting-edge solutions to meet the demands of the semiconductor industry.
What are Custom Plastic Semiconductors?
Custom plastic semiconductors refer to semiconducting materials that are encased or integrated into plastic packaging to achieve specific functionalities and form factors. These plastics are engineered to protect sensitive semiconductor components from environmental factors, such as moisture, dust, and contaminants, while also offering electrical insulation and thermal management properties. Every semiconductor application is unique, and one size does not fit all. This is where the significance of custom plastic semiconductors shines. By tailoring the packaging materials to match the specific requirements of a semiconductor device, manufacturers can achieve optimal performance, reliability, and cost-effectiveness.
Advantages of Custom Plastic Semiconductors
Miniaturization: Custom plastic packaging allows for the creation of smaller and lighter semiconductor components, enabling the development of more compact and portable devices.
Enhanced Performance: The customized nature of plastic semiconductor packaging ensures precise alignment with the device's thermal and electrical requirements, leading to improved performance and longevity.
Cost-Effectiveness: While customization may seem expensive at first glance, it ultimately reduces costs by eliminating unnecessary features and optimizing the design for the intended application.
Versatility: Custom plastic semiconductors are compatible with various semiconductor types, including diodes, transistors, integrated circuits (ICs), and more, making them suitable for a broad spectrum of industries and applications.
Applications of Custom Plastic Semiconductors
Consumer Electronics: The consumer electronics market thrives on innovation and aesthetics. Custom plastic semiconductors enable the production of sleeker, more lightweight smartphones, tablets, and wearables while maintaining superior performance.
Automotive Industry: The automotive sector is rapidly adopting semiconductor technology for advanced driver-assistance systems (ADAS), infotainment systems, and electric vehicle components. Custom plastic packaging ensures the durability and reliability of these electronics in harsh automotive environments.
Medical Devices: Custom plastic semiconductors are invaluable in the healthcare sector, where precision and reliability are critical. They are used in medical imaging equipment, diagnostic devices, and wearable health monitoring devices.
Industrial Automation: Industries benefit from the compact and robust nature of custom plastic semiconductors for their automation and control systems, contributing to increased efficiency and productivity.
Custom Plastic Semiconductors with Reading Plastic & Metal
Reading Plastic and Metal, with its commitment to excellence, cutting-edge technology, and collaborative approach, stands as a trusted partner in delivering custom plastic semiconductor solutions that empower businesses to drive progress and achieve new heights in their respective industries. Whether it's consumer electronics, automotive applications, medical devices, or industrial automation, the fusion of technology and customization will shape the future of semiconductors, and Reading Plastic and Metal is ready to lead the way. Contact us today at (610) 926-3245 or site2@readingplastic.com to learn more!