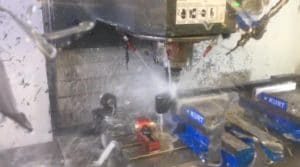 Glass-filled plastics are some of the most difficult plastics to machine, which is why many machine shops refuse to work with them. Glass-filled plastic machining requires special tools and training to produce a high-quality product. At Reading Plastic, we excel at machining all types of plastic, including glass-filled.
The Challenges of Glass-Filled Plastic Machining
Glass-filled plastics, such as Ultem®, offer excellent electrical insulating properties, mechanical strength, and dimensional stability. They are commonly used for electrical housing components and medical components, and are becoming extremely popular in aerospace applications. But when it comes to machining glass-filled plastics, there are unique challenges that need to be overcome.
The main problem is that glass-filled plastics are extremely abrasive and can cause cutting tools and inserts to wear quickly. Cutting tools need to stay razor sharp in order to cut advanced engineering plastics precisely. While most plastics can be machined with HSS (high-speed steel) cutters, glass-filled plastics need cutters made from carbide (or even ceramic) to counteract the abrasiveness of the glass.
Heat is another issue when machining glass-filled plastics. While any plastic can burn or melt if machined too quickly, glass-filled plastics are prone to delamination if the tools are run too fast. Slower cutting speeds can help conserve tool life as well as protect the integrity of the plastic material. Coolants are also required as glass-filled plastics are especially notch sensitive. However, the petroleum-based coolants typically used in metal machining attack glass-filled plastics and cause cracks to develop over time. That is why you need to choose a machine shop that is experienced in machining plastics.
Lastly, glass-filled plastic machining requires special biohazard considerations. Machining these materials creates dust filled with glass particles, so the air must be evacuated to keep the working environment clean and safe.
We Excel at Glass-Filled Plastic Machining
At Reading Plastic, we are experienced at machining even the most technical plastics, from glass-filled Ultem® to high strength PEEK. Our immaculately maintained, state-of-the-art machines can produce precise, high-quality parts that hold tight tolerances. Our staff has decades of experience working with engineering and specialty plastics and we've learned hands-on how the materials perform in all sorts of settings. We work with a wide variety of glass-filled plastics, including:
Acetal®
Delrin®
PEEK
PTFE
Tecamid®
Tecapeek
Ultem®
If you have a project in mind, call us today at 610-926-3245 or email at site2@readingplastic.com. We look forward to working with you!