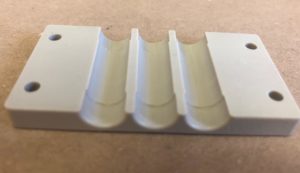 When it comes to the mechanical properties of plastics, being able to resist breaking under tensile stress is one of the most important and widely measured properties for materials that are used in structural applications. Tensile strength – also called ultimate tensile strength – is how much stress a plastic can withstand without breaking when it is stretched or pulled. This is an important consideration for materials that will be stretched or under tension. If your project requires a high tensile strength plastic, there are five that make the top of the class: PAI, Ultem, PEEK, PPS, and Nylon.
Nylon
Coming in at #5 is Nylon, with a tensile strength of 12,400 psi. Nylon is used in a wide array of applications, from clothing and rope to reinforcement in rubber material (such as car tires) and substituting for low strength metals. In addition to its high strength and excellent tensile properties, Nylon has a relatively high melting point (450ºF) and exhibits excellent abrasion resistance. It has high chemical resistance and is not damaged by oils, solvents or alcohols.
PPS
At #4 we have PPS (polyphenylene sulfide) with a tensile strength of 12,500 psi. Compared to other thermoplastic resins, PPS stands out in heat resistance, dimensional stability, rigidity, chemical resistance, flame retardance, and moist-heat resistance. It is also resistant to acids, alkalies, mildew, bleaches, aging, sunlight, and abrasion. Combined with its excellent tensile strength, these properties make PPS extremely popular for use in car parts, mechanical parts, and electrical and electronic parts. However, PPS does suffer from an inherent brittleness, so it is filled to counteract this limitation.
PEEK
PEEK (polyetheretherketone) is one of the best high performance engineering thermoplastics on the market thanks to its superior properties, including a tensile strength of 14,000 psi. It has chemical and water resistance similar to PPS, but can operate at higher temperatures – up to 480ºF for continuous use. It can also be used in hot water or steam without permanent loss of its physical properties due to its low moisture absorption. PEEK has inherently good wear and abrasion resistance as well as a high resistance to biodegradation. Because of its impressive combination of properties, PEEK is used demanding applications and the harshest environments, include aircraft parts, bearings, pumps, medical implants, electrical cable insulation, and more. There are also various grades of PEEK that offer enhanced benefits.
Ultem
Also known as PEI (polyetherimide), Ultem is a high performance thermoplastic with properties similar to PEEK, but with a lower impact strength and usable temperature as well as a lower cost. Ultem has excellent mechanical properties, including a tensile strength of 15,200 psi, and has continuous use up to 340ºF. It is easily machined and fabricated with excellent strength and rigidity and has a high dielectric strength. Ultem is popular for use in medical and chemical instrumentation due to its heat, solvent, and flame resistance.
PAI
The ultimate high tensile strength plastic is PAI (polyamideimide), with an impressive tensile strength of 21,000 psi. This high performance plastic has good wear and radiation resistance, inherently low flammability and smoke emission, and high thermal stability. With the highest strength of any unreinforced thermoplastic, PAI parts can be found in jet engines, internal combustion engines, thrust washers, and printed circuit boards. PAI is also used for valves, gears, bearings, electrical connectors, and general mechanical components.
Reading Plastic – Your Source for High Tensile Strength Plastic Parts
For over three decades, Reading Plastic has been machining and fabricating high performance plastic parts for an array of industries and applications. If you need superior plastic parts that can withstand tensile stress, call us today at 610-926-3245.