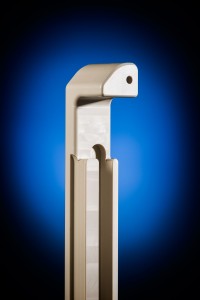 PEEK machining for medical devices has been on the rise in recent years, thanks to this material's advanced properties that make it uniquely suitable for contact with the human body. In the last ten years, it's become widely accepted for long-term, in-body applications over other plastics or traditional metals. It's also found its way into numerous medical devices that must function well at all times, no matter the temperature or environment.
What makes polyether ether ketone (PEEK) so popular in healthcare and medical device manufacturing? Keep reading for an overview of its properties and a few ways it's being used in the healthcare industry today.
Our precision plastic machine shop has worked with numerous clients who want to ensure their investment in PEEK brings about the results they're seeking. We're happy to share our expertise and encourage you to request a quote online for the project you have in mind.
Machining PEEK for Medical Devices: Key Properties and Proven Applications
In addition to functioning well in bearings, pumps, piston parts, and cable insulation, PEEK makes for superior medical devices due to these properties:
Naturally translucent when viewed using X-ray, CT, or MRI
High chemical resistance
Biocompatibility ensures the human body accepts the part, and the part doesn't break down over time
Strength and stiffness similar to that of bone in its flexibility, much more so than steel or titanium
Remarkably inert with no response to most solvents, lipids, blood or enzymes in the body
Stable at high temperatures
Can replace metals like stainless steel or titanium
Can be sterilized via E-beam, steam, gamma, etc.
Inherently good wear and abrasion resistance
Thanks to these properties, manufacturers are realizing the value of PEEK in applications like:
Dental implants
Bone screws and pins
Neurological and cardiac leads
Spinal implants
Hip stem components
Tissue anchors
Suture screws
Grafts
Pacemakers
Shoulder anchors
Fusion devices
Dialysis pump filters
Spiked washers
Centrifuges and disc filters
Of course, applications of PEEK aren't limited to the medical industry. This material finds a place in many other industries as well, including aerospace, food & beverage, electronics, petroleum, automotive and others. New applications for this versatile material continue to arise each year.
PEEK can be fabricated to any close tolerance, but it's important to choose your precision plastic machine shop carefully to avoid errors with this relatively expensive material.
We Machine PEEK Custom Parts
With decades of experience, we're known to hold close tolerances and deliver parts fast and ready to go. If you're looking for a quote on a PEEK machining project—or another one of the plastics we machine—reach out to us at (610) 926-3245 or site2@readingplastic.com