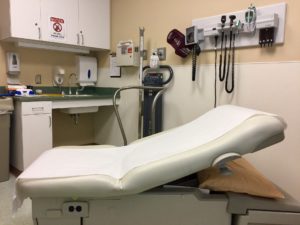 Today's medical devices and equipment have to meet stricter regulations than ever before, even as products are expected to be produced faster and at lower costs. Medical precision machining is tasked with manufacturing highly technical parts that can be delivered quickly and in large quantities with a high degree of repeatability. At Reading Plastic, we are constantly exploring new specialty plastics and carefully monitoring changes to healthcare regulations so that we can provide reliable precision medical machining to our clients.
How Medical Precision Machining Benefits Modern Healthcare
Flexible and ergonomic designs – As less- and non-invasive surgical techniques become more common, there is an increased need for miniaturized devices and specialized equipment. Specialty plastics can be machined into complex, ultrasmall designs that still provide the high degree of flexibility and comfort necessary for certain procedures, such as angiography.
Antimicrobial and antistatic additives – Antimicrobial polymers resist bacteria, fungus and algae, helping combat the rising death toll from hospital-borne infections. These polymers can be used in bed rails, equipment housings, infusions sets – any surface that is commonly touched by doctors, nurses and patients. Likewise, antistatic plastics keep patients and staff safe by reducing electrostatic discharge that could ignite oxygen or other highly combustible medical gases.
Lower costs – Medical precision machining helps keep production costs low in several ways. First, state-of-the-state machines and skilled technicians machine your parts correctly the first time, thereby minimizing waste and keeping material costs low. With a wide variety of specialty plastics to choose from, components can be tailored to meet specific needs, rather than having to make an entire device from one type of plastic. And at Reading Plastic, we can handle any volume production, allowing you to place small orders and avoid having to buy expensive specialty plastics in bulk.
Increased speed to market – FDA compliance is a major consideration in plastic part design. If the FDA rejects a design, the process must begin again entirely—meaning the FDA will not accept the same design twice, even if you've altered it in hopes of attaining compliance. Medical precision machining can produce prototypes quickly and cost-effectively, allowing you to test multiple prototypes at once and increasing the chances of a design being approved. Furthermore, medical precision machining allows you to create prototypes from the same material as the final product, giving doctors testing the prototype a true feel for the final product. This cuts down on false information related to divergences between prototypes and final designs.
Medical Precision Machining from Reading Plastic
With over three decades of experience, state-of-the-art equipment and knowledgeable staff, Reading Plastic provides our clients with dependable high-quality medical machining. We are known for tight tolerance machining and our strict quality standards, ensuring your parts are right the first time, every time. Have a project in mind? Contact us today at (610)-926-3245 or email site2@readingplastic.com.