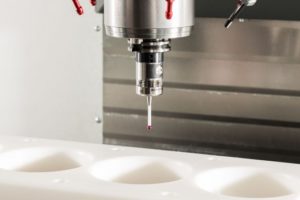 Like everything Reading Plastic & Metal offers, our metal CNC shop produces reliable, precision parts with signature tight tolerances to meet the highest standards. Our state-of-the-art machinery is run by skilled, experienced operators who use the latest CAD/CAM software to fill your order of any size at high production speeds.
We have fast cycle times and deliver the best copper, brass, aluminum, titanium, and stainless steel parts with our exceptional machining practices and techniques. Whether it's a prototype, short runs of complex parts, or high-volume part production, we've got you covered.
Our CNC Metal Machining Processes
Our CNC metal shop boasts a group of impeccably maintained machines that are used to achieve the specifications and features your parts require. Our fine-tuned operations include the following processes:
CNC Milling
CNC milling uses cutting tools to shape symmetric metal parts. The type of cutting tool depends on the desired shape and material used. Milling is usually used to make metal tools, fasteners, and brackets. Other examples are three-dimensional surface contours, slots, pockets, and holes.
CNC Turning
CNC turning removes unwanted materials from rotational parts with single-point or multi-part cutting by using a lathe or a turning machine at high rotating speeds. Turning refines or adds features to metal components to enhance precision.
CNC Grinding
A CNC grinding machine has a rotating wheel that removes excess metal. It is typically used during the finishing process of parts that need perfect finishes for working seamlessly with other parts.
Get Quality Work and Service From Reading's Leading Metal CNC Shop
Reading Plastic & Metal has vast experience fulfilling orders of exceptional quality products to our customers' exact specifications. We offer rapid production of identical, intricate high-performance parts that pass stringent ISO 9001:2015 quality assurance inspection.
Our decades of successfully serving the manufacturing market have allowed us to build lasting relationships with customers in a wide variety of industries. Don't hesitate to contact us today at (610) 926-3245 or site2@readingplastic.com, so we can get started on your project.