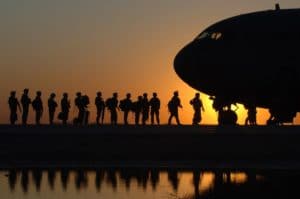 When choosing a company to machine and fabricate military-grade plastic, you want to select a company that has a proven track record of quality and service. For nearly four decades, Reading Plastic Machining & Fabrication has been producing high-quality plastic parts in the U.S. Our skilled fabricators and machinists operate state-of-the-art machinery to produce plastic parts that hold the closest tolerances.
Our selection of advanced engineering plastics can stand up to heat, friction, salt water, grit and meet all your plastic part specifications and requirements. We are ISO 9001:2008 certified and are fully compliant with Aviation and Department of Defense Standards. We have built military-grade plastic parts for every branch of the armed forces, including seals, gears, rollers and other components.
Reading Plastic is frequently asked to machine parts under non-disclosure agreements, both for industry and governments clients. You can trust us with any sensitive project and be confident your high-end machined plastic parts will perform to your expectations. We also offer lot- and batch-traceable parts to meet regulatory requirements.
Military-Grade Plastic Enhancements Over Standard Grade Plastics
Military-grade plastic features:
Enhanced reliability monitoring program
Temperature cycling to remove infant mortality failures
100% electrical testing to guarantee data sheet performance
Additional inspection operations
Fully characterized over the military temperature range
Tighter in-process controls
Military-Grade Plastic is Designed for the Harshest Environments
Military-grade plastic is available in a variety of grades to meet specific needs.
Radiation hardened plastic is designed to resist damage from ionizing radiation (particle radiation and high-energy electromagnetic radiation) experienced by spacecraft.
Joint Army Navy specifications apply to plastic used in both space systems and aircraft.
Military plastic can be found in both vehicle and personal body armor, as well as various other tools and weapons. Reading Plastic offers a COTS (commercial off the shelf) solutions for plastic parts that can still endure a range of environments, from deserts to tundra and everywhere in between.
High temperature plastic is an upgrade from industrial flow.
Extreme temperature plastic is used in oil and gas applications.
DICE (Data Integration and Collection Environment) plastic is perfect for hybrid and MCMs (multi-chip modules).
Reading Plastic Manufacturing and Fabricating: Specializing in Military-Grade Plastic
When you need strong, durable military-grade plastic parts, call Reading Plastic at 610-926-3245. Our team is ready to use their decades of experience to produce whatever your mission requires.