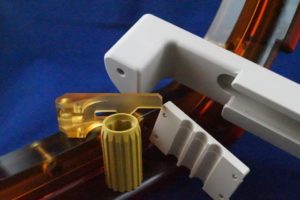 Industries are always looking for ways to improve their products, and the military sector is no different. From improving safety to reducing weight, military-grade plastic has been revolutionizing military products and equipment. As a military spare parts supplier, Reading Plastic understands the importance of delivering dependable parts quickly. Our commitments to excellence and customer satisfaction have made us a leading supplier of plastic spare parts to the military.
How Does Plastic Improve Military Parts?
Military-grade plastics are engineered to withstand heat, friction, saltwater, grit, and the harshest conditions our modern world has to offer. They can resist damage from ionizing radiation experienced by spacecraft and endure the extreme pressures subjected on submarines. From tools and weapons to personal body armor and aircraft parts, military-grade plastics are ever-expanding in their military use. Some of their specific benefits include:
Durability – When replacing metal parts with plastic, the new parts have to match or exceed the strength of the metal. Modern plastic composites perform as well as – and, in some cases, better than – metal in terms of strength-to-weight (how much stress the material can endure before failure divided by its density) and strength-to-stiffness (the material's resistance to being deformed under stress per mass density).
Weight – Plastic is a fraction of the weight of metal, significantly reducing the weight of gear and equipment that troops wear, carry and use in the field. This provides them with greater dexterity, agility, and stamina. Plastic is also being used to reduce weight in aircraft, leading to greater fuel efficiency and longer flight times.
Chemical resistance – Military equipment is often at risk of chemical exposure, both inside and without. These chemicals can be detrimental to equipment functionality and integrity. Military-grade plastics offer high chemical resistance to protect both equipment and personnel.
EMI (electromagnetic) shielding – Blocking electromagnetic frequencies is critical for military communication and stealth. Plastics offer specialized coatings and compounds that dissipate interference by absorbing or reflecting radio waves.
Reading Plastic: an Experienced Military Spare Parts Supplier
At Reading Plastic, we have machined and fabricated parts for every branch of the Armed Forces and are fully compliant to Department of Defense Standards and ISO 9001:2015. Our parts can be found in U.S. Armed Forces equipment around the globe:
Air – We produce a wide array of parts for aircraft, including engine and structural components.
Land – We make seals, gears and more for everything from Armored Personnel Carriers to tanks.
Sea – We excel at producing plastic parts for marine environments, especially for submarines.
Contact us for the strongest, most durable military-grade plastic parts: 610-926-3245.