At Reading Plastic & Metal, we pride ourselves on providing high-quality materials and expert manufacturing capabilities to meet the diverse needs of our customers. When it comes to marine applications, durability, corrosion resistance, and strength are of utmost importance. That's why we highly recommend naval brass as the superior material choice for such demanding environments. In this blog post, we will explore the unique qualities of naval brass and highlight how it aligns perfectly with our capabilities and commitment to delivering excellence in marine applications.
What is Naval Brass?
Naval brass, a copper-zinc-tin alloy, offers exceptional mechanical and corrosion-resistant properties, making it an ideal material for marine environments. At Reading Plastic & Metal, we specialize in working with naval brass, particularly the widely used C46400 alloy, which contains approximately 60-63% copper, 0.75-1.25% tin, and 0.07-0.25% lead. Our expertise in machining and fabricating naval brass components allows us to deliver superior results that withstand the harshest marine conditions.
Benefits of Naval Brass
Unmatched durability: At Reading Plastic & Metal, we understand the importance of durability in marine applications. That's why naval brass is our go-to choice. Its exceptional strength and hardness ensure resistance to wear, erosion, and fatigue, guaranteeing reliable performance and longevity. By utilizing our state-of-the-art machining capabilities, we can manufacture naval brass components such as propellers, pumps, valves, and fittings with precision and consistency, delivering products that exceed industry standards.
Corrosion resistance for longevity: When it comes to marine environments, corrosion resistance is paramount. Naval brass, with its added tin content, offers superior protection against saltwater corrosion and biofouling. This translates to minimal maintenance requirements and extended lifespan for components. At Reading Plastic & Metal, we recognize the significance of corrosion resistance in marine applications, and our expertise in working with naval brass ensures that our customers receive products that are highly resistant to the corrosive effects of seawater, reducing the need for frequent repairs and replacements.
Machining expertise for complex components: At Reading Plastic & Metal, our proficiency in machining naval brass enables us to manufacture complex components that meet precise specifications. We understand that marine applications often require intricate shapes and designs. Our skilled technicians and advanced machinery ensure that naval brass is easily fabricated and formed into the desired forms, allowing for seamless integration into marine systems. This, in turn, reduces downtime and operational costs, enhancing the efficiency of our customers' marine vessels.
Naval Brass for Marine Hardware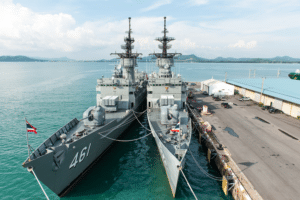 Naval brass finds extensive usage across a wide range of marine applications. Some notable examples include:
Shipbuilding: Naval brass is employed in the construction of various ship components, such as propellers, shafts, rudders, and fittings. Its combination of strength, corrosion resistance, and anti-fouling properties ensures optimal performance and reliability.
Offshore Oil and Gas Industry: Naval brass is utilized in offshore platforms, marine equipment, and subsea installations due to its ability to withstand harsh marine conditions and resist corrosion caused by saltwater and hydrocarbon exposure.
Marine Plumbing Systems: Naval brass fittings, valves, and connectors are commonly used in plumbing systems aboard ships and boats. These components provide secure and leak-free connections, ensuring the integrity of the vessel's plumbing infrastructure.
Trust Reading Plastic & Metal for Naval Brass Application
At Reading Plastic & Metal, naval brass is our material of choice for marine applications. By leveraging our expertise and capabilities in machining naval brass, we help our customers achieve optimal performance, reduced maintenance costs, and increased operational efficiency in the demanding world of maritime operations. Trust Reading Plastic & Metal to provide you with the superior quality naval brass components you need for your marine applications.