In the realm of advanced engineering materials, nickel aluminum bronze, especially in the form of grade C63000, stands as an extraordinary metal. Boasting exceptional strength and corrosion resistance, this remarkable alloy has found its way into the aerospace industry, where reliability, durability, and performance are paramount. Reading Plastic and Metal excels in delivering high-strength aircraft parts made from this mighty metal.
What is Nickel Aluminum Bronze?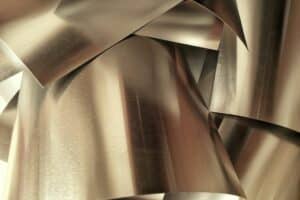 Nickel aluminum bronze is a family of copper-based alloys with the addition of nickel and aluminum, which impart unique properties. This combination results in a metal that exhibits remarkable strength, excellent corrosion resistance, and superior wear resistance. The addition of nickel enhances its mechanical properties, while aluminum contributes to its corrosion resistance, making it an ideal material for applications exposed to harsh environments. Grade C63000, also known as AMS 4640 or CDA 630, is a nickel aluminum bronze alloy that is widely recognized for its exceptional mechanical properties. It contains a balanced composition of nickel, aluminum, iron, and manganese, resulting in a material with superior tensile and yield strength, excellent resistance to stress corrosion cracking, and good weldability. These attributes have made C63000 the preferred choice for aircraft parts subjected to high-stress and corrosive conditions.
Nickel Aluminum Bronze in Aircraft Parts
Bearings and Bushings: Aircraft components require robust bearings and bushings that can withstand heavy loads and high speeds. Nickel aluminum bronze, especially grade C63000, is an ideal material for manufacturing these critical components, offering low friction, high wear resistance, and excellent fatigue strength.
Landing Gear Components: The landing gear is a vital system in aircraft, and its components must endure significant stresses during takeoff and landing. Nickel aluminum bronze parts ensure reliable and safe operation, even in harsh environments and corrosive conditions.
Hydraulic Components: The aerospace industry relies heavily on hydraulic systems for various applications. Nickel aluminum bronze's corrosion resistance and high strength make it an excellent choice for hydraulic components like pumps, valves, and fittings.
Propellers and Rotors: The performance of aircraft propellers and rotors greatly impacts overall efficiency. Nickel aluminum bronze offers the necessary strength and durability to ensure optimal performance under demanding conditions.
Advantages of Nickel Aluminum Bronze in Aircraft Parts
High Strength: Nickel aluminum bronze, especially grade C63000, boasts an impressive combination of tensile and yield strength, making it suitable for parts subjected to heavy loads and stress.
Corrosion Resistance: In the harsh environments that aircraft operate, corrosion resistance is essential. Nickel aluminum bronze is highly resistant to corrosion, ensuring long-lasting performance and reliability.
Wear Resistance: Aircraft components exposed to constant friction and wear require materials with excellent wear resistance. Nickel aluminum bronze's self-lubricating properties reduce wear and extend component life.
Weldability: The weldability of nickel aluminum bronze, particularly grade C63000, simplifies fabrication and repair processes, saving time and resources during manufacturing and maintenance.
Nickel Aluminum Bronze at Reading Plastic & Metal
As the demand for high-performance aircraft parts continues to rise, Reading Plastic and Metal remains dedicated to delivering excellence in manufacturing precision-engineered components from nickel aluminum bronze. Contact us today at (610) 926-3245 or site2@readingplastic.com