When it comes to staying competitive, avoiding costly breakdowns of critical machinery is a top priority. Companies running production lines need to make sure their parts last—including getting fast OEM parts if something does go wrong. Unfortunately, many companies can tell you about a bad experience they've had trying to get in contact with an original equipment manufacturer. From domestic production backlogs to slow overseas shipping, the wait for parts can prolong downtime and cost businesses big time. Not Reading Plastic & Metal! Look no further for your OEM plastic manufacturer—we provide OEM plastic parts without the wait, so you can get your critical machinery up and running.
What to Expect
When you partner with us for your OEM replacement parts, you'll benefit from: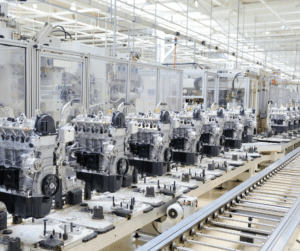 No need to wait on the original manufacturer—in fact, you don't even need to know the original manufacturer. All you have to do is send us the part and we'll do reverse engineering to generate a CAD drawing, so we can machine the part ourselves. That means if you don't know where a mystery part comes from, you're not in big trouble. We'll generate the design so you can machine as many replacements as you need.
No need to use the material that let you down last time. We'll put our expert knowledge to use machining a plastic that offers better wear resistance, lower friction, greater strength, protection against static, or another combination of properties. Tell us about your production line and we'll offer a metal-to-plastic conversion that will make your part better suited to its application—resulting in fewer breakdowns and higher production going forward.
No need to worry about future breakdowns. Once we've machined your part, you no longer have to worry about tracking down the original manufacturer if the part ever gives you trouble again. Instead, you'll have a ready source of OEM part replacements for the future, so you can rest easy about your production line.
No need to wait until future breakdowns. If you like to think ahead, we can machine an emergency repair kit with your components ahead of time. Rather than waiting until a breakdown strikes, you'll be ready to take action should anything go wrong and keep your production totals high.
Reading Plastic & Metal is the #1 OEM Plastic Manufacturer
For reliable, precision plastic parts, call Reading Plastic today at (610) 926-3245, or email us at site2@readingplastic.com. No matter the application, our experts can replicate OEM parts andmachine the solution!