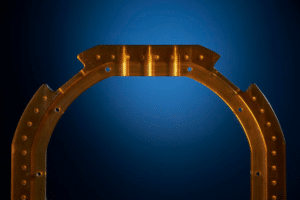 The oil and gas industry presents one of the most demanding environments you can imagine for its infrastructures to withstand. Extreme temperatures, high pressures, heavy loads and abrasive chemicals define this industry—and the ability of parts and components to hold up under these conditions makes a substantial impact on safety and productivity, not to mention profitability.
In such a punishing environment, it's no surprise specialty plastics have come to play an integral role. Their advanced properties enable engineered plastics to endure harsh conditions that would destroy most metals quickly. To minimize risk and maximize reliability, the bulk of chemical processing companies have come to rely on oil & gas plastic machining for their parts and components.
We're Reading Plastic Machining & Fabrication, a provider of the widest product portfolio of specialty plastics for oil and gas applications. As we'll discuss in this blog, precision plastic machining is an ideal solution for oil & gas companies looking to improve the function and integrity of their infrastructures.
Why Precision Plastic Machining for Oil & Gas Helps Cut Costs and Downtime
 When it comes to oil & gas infrastructures, three factors can make or break a company's success: cost, downtime and safety. Using specialty plastics in seals, gears, wear pads, rollers and other components contributes to improvement in all three areas, due to superior properties such as:
Reduced friction and superior coefficient of linear thermal expansion (CLTE) for improved design and performance
Lower maintenance cost thanks to easy to clean, non-stick materials
Greater product efficiency with tighter tolerances and lower wear materials
Longer equipment lifetime despite corrosive conditions
Lower weight and power requirements when switching metal components to plastic
Compliance with common industry specifications such as ASME, ISO, Norsok, NACE and API
Reduced VOC emissions due to superior materials for seal elements, which help cut down on leaks that alter the environment
Why Choose Reading Plastic for Oil and Gas Plastic Machining
Why partner with us for your critical oil and gas plastic machining services?
Reading Plastic has been machining the world's most advanced plastics since 1978. Our parts are in telecom equipment, defense systems, labs, hospitals and beyond, thanks to our diverse clientele that spans the globe. We are accustomed to machining parts for both private industry and government clients, frequently under non-disclosure agreements and to the strict standards of the FDA, Department of Defense and other policymakers.
We guarantee our parts will deliver. To talk solutions, we recommend giving us a call at 610-926-3245 or filling out our contact form. You can even request a quote using this easy form.
We look forward to providing the oil and gas plastic machining services your company relies on to excel.