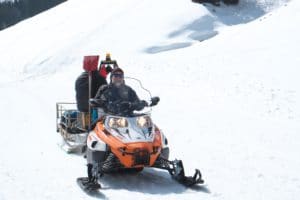 Optical grade polycarbonate is an extremely tough, optically clear material that provides total luminous transmittance with a very low haze factor and low distortion. Its high impact strength makes it the perfect substitute for glass in a variety of applications, from laminated security glazing to military vehicle glazing and more. At Reading Plastic, our state-of-the-art CNC machines can cut and shape optical grade polycarbonate to your exact specifications for high-quality end-use precision and performance.
What is Optical Grade Polycarbonate?
This transparent, stiff and strong thermoplastic offers optimal visual quality and outstanding impact resistance, making it perfectly suited for tough applications. In fact, it is one the most widely used engineering thermoplastics in applications that demand high-performance properties.
Optical grade polycarbonate is virtually unbreakable, with an impact strength 250 times that of float glass and 30 times that of acrylic. And at half the weight of plate glass, it allows structural applications to require less support. This high impact strength makes it resistant to repeated blows, shattering and spalling. ("Spalling" is surface or subsurface fatigue that causes fractures to form in running surfaces. When rolling elements travel across these cracks, pieces of the material flake away. Spalling is also referred to as flaking, peeling or pitting.)
Key properties of optical grade polycarbonate include:
High optical clarity
UV stability
Low distortion
Highly transparent to visible light (rates highest among transparent, rigid thermoplastics)
Better light transmission characteristics than many types of glass
Excellent toughness
Thermal stability
Very good dimensional stability
Strong and stiff
Good electrical insulation
Easy to fabricate and machine
What are the Applications for Optical Grade Polycarbonate?
Optical grade polycarbonate can be used in a wide variety of applications and industries, from automotive and military to architectural and retail. Common uses include:
Aftermarket automotive parts
Architectural glazing (medical facilities, retail and government buildings, and transportation centers at risk from breakage and/or vandalism)
Face shields
Indoor and outdoor signs
Laminated security glazing
Machine guards and sight glasses
Military vehicle glazing
Non-automotive vehicle glazing
POP displays and graphic holders
Protective lamination
Recreational vehicular glazing
Semiconductor machinery components
Skylights
Snowmobile and motorcycle windshields
Transit shelters
Transparent manifolds
Visual applications
Window glazing
For Superior Optical Grade Polycarbonate Parts, Call Reading Plastic
Reading Plastic has been delivering precise, high-quality parts for nearly four decades. As an experienced high-end machine shop, we specialize in tight tolerances and are ISO 9001:2015 certified. If you have a project that can benefit from optical grade polycarbonate parts, call us today at (610) 926-3245 or email us at site2@readingplastic.com. We look forward to working with you.