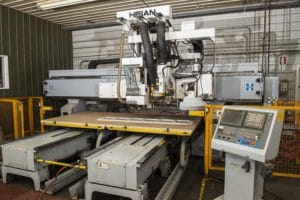 At Reading Plastic, we pride ourselves on our long history of quality, precision and craftsmanship. For precision machined parts and unbeatable plastic fabrication Pennsylvania has been turning to Reading Plastic for nearly four decades. We provide parts for a wide variety of industries:
Medical Industry
Telecom
Oil & Gas
Agriculture
Semiconductor
Aviation/Aerospace
Waste Treatment
Food and Beverage
Military
Outstanding Machining and Plastic Fabrication – Pennsylvania
CNC machining – We have the equipment and know-how to produce your precision-engineered plastic parts. Our shop houses state-of-the-art, well maintained machinery, ultra-precise cutting tools and the highest levels of quality control. All our parts must pass a comprehensive, ISO 9001:2008 certified quality inspection before they are shipped.
OEM parts – Machine breakdowns can lead to costly delays if replacement parts are backlogged. Get your machines back up and running faster with OEM replacement parts from Reading Plastic. We can reverse engineer any OEM plastic part, providing you with a ready source of replacements in the future. And there is no need to wait for a breakdown: we can create an emergency repair kit for your production line, drastically reducing downtime.
Precision die cutting and stamping – We are equipped to stamp a vast range of thin-gauged insulation materials, plastics and other non-metallic materials needed for specialty applications. We're experts at producing gaskets, washers, seals, insulators, and graphics with custom steel-rule and CNC machined dies. We also help you find the right advanced material for your project, no matter your priority:  color, wear resistance, anti-static, etc.
Custom fabrication – Our custom fabrication services turn your machined plastic parts into assembled, finished products. From snapping machined parts together to complex bending and threading, we help you get your finished plastic parts faster.
A Long History of Plastic Fabrication in Pennsylvania
Reading Plastic Machining & Fabrication is a family-run business located in beautiful Eastern Pennsylvania. In 1950, it began as a basement operation that provided plastic parts to the textile industry in Reading. The company then became involved with Western Electric Reading Works, helping them fabricate parts for early semiconductor development and production. In 1978, the company was incorporated as Polyfab Corp T/A Reading Plastic Fabricators.
As technology and customer needs evolved, Reading Plastic chose to add machining to their list of services. We have quickly become well-known for the tight tolerances of our machined parts. We have also expanded our services to be available coast to coast.
As a high-end machine shop, Reading Plastic can meet all your milling, turning, routing and die stamping needs. While our main wheelhouse is tight tolerances, we can supply all your plastic fabrication and machining needs, no matter the industry. If you have a part that you are looking to convert from metal to plastic, Reading Plastic is the place to turn.
Call us today at 610-926-3245 to learn more about our Pennsylvania plastic fabrication and machining services.