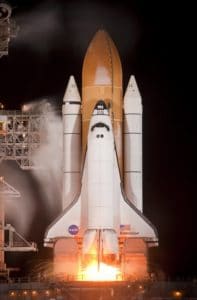 Plastic outgassing is an important factor for plastic components that are going to be used in high-heat environments, vacuum applications, or enclosed spaces. Choosing low-outgassing plastics for these applications protects both workers and equipment.
What is Plastic Outgassing?
Most plastics contain volatile organic compounds (VOCs) which, when vaporized, are poisonous, carbon-containing chemicals. Direct contact with VOCs can irritate eyes, noses and throats, and cause coughing, headaches, dizziness and nausea. High temperatures accelerate outgassing, as do vacuum environments, with the vacuum of outer space producing the highest outgassing rates. (Which is why NASA tracks outgassing materials.) Since many industrial applications involve high heat or operating inside a vacuum, plastic outgassing becomes a critical factor in choosing plastic materials.
Low Outgassing Plastics
Certain industries – including aerospace, semiconductor, and energy – have strict requirements for plastic outgassing. Fluoropolymers tend to have the lowest outgassing properties and are commonly used in vacuum applications. Other high-purity plastics, such as PFA, are low outgassing and have low levels of leachables and extractables as well as low absorption of process fluids. These materials are typically used in applications in which contamination must be avoided, such as pharmaceutical, food processing, and semiconductor manufacturing.
Some of the best low outgassing plastics include:
PEEK – This low-outgassing, high-performance engineering plastic offers high temperature resistance, outstanding chemical resistance, superior hardness, and the highest tensile and flexural strength of any high-performance polymer. PEEK is often used for applications that require metal-like durability and can be found in a wide variety of challenging environments, including semiconductor, oil and gas, and aerospace.
PTFE (Teflon®) – This synthetic fluoropolymer is commonly used in vacuum systems. It is self-lubricating, tolerant to high temperatures, and a good electrical insulator. PTFE also has high flexural strength, excellent chemical resistance (pure PTFE is almost totally chemically inert), the lowest coefficient of friction of any plastic, and is hydrophobic.
PVDF – Polyvinylidene fluoride is a high-purity plastic suitable for use in a vacuum and commonly used for chemical tank liners and semiconductor components. PVDF has good UV stability and excellent chemical, abrasion resistance, and flame.
Vespel® – This polyimide can perform at extremely high temperatures (continuous use up to 550ºF) without losing its mechanical properties. It has excellent creep resistance, high resistance to chemical corrosion, high impact resistance and strength toughness, and offers superior wear performance and low friction. Vespel® is a lightweight alternative to metal that can be easily machined to achieve complex geometries and tight tolerances.
Halar® (ECTFE) – Halar® is stronger and stiffer than many other fluoropolymers and has high impact strength, excellent fire resistance, good electric properties, exceptionally smooth surfaces, and is abrasion and weather resistant. It is also easy to process and has extraordinary chemical resistance.
The experts at Reading Plastic can help you determine which low outgassing plastic is right for your application, and have the tools and expertise to deliver high-quality, dependable parts. Call us today at 610-926-3245 or email site2@readingplastic.com to discuss your project.