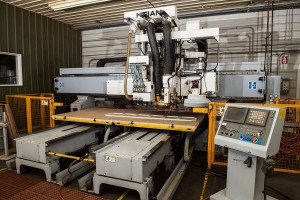 In business, time is critical. While sometimes it's possible to assemble a finished product yourself, other times you need that finished product pronto. That's when our fabrication team steps in. Plastic parts fabrication turns your machined parts into assembled, finished products in a hurry. Whether you're under a time crunch or don't have the manpower to assemble or modify machined parts, Reading Plastic has your back.
In this blog, we explore the benefits of fabricating parts from plastic over metal. As you will find, the advanced properties of engineering plastic provides an edge over metal in many applications.
Why Convert from Metal to Plastic Parts Fabrication?
Parts consolidation – Multiple metal parts can often be redesigned into a single plastic part. Reducing the number of parts also reduces the need for fasteners and assembly.
Weight reduction – Most plastics are about six times lighter than zinc and have a lower density. Lightweight parts mean greater ease of use and reduced fuel consumption.
Labor savings – Plastic parts often require minimal assembly and can reduce the need for secondary operations such as welding, painting, and laser marking.
Performance – Many plastic polymers offer resistance to impact, flame and chemical resistance and are also non-conductive, empowering your parts to perform better in critical applications.
Longer product life – High performance resins are resistant to corrosion, reducing the need for secondary coatings and sprays.
Productivity gains – Plastic parts can be manufactured in higher volumes at shorter cycle times.
Balance of properties – Plastic polymers run a broad spectrum of chemical formulas, each boasting uniquely beneficial properties. What's more, these resins can be blended to optimize their properties.
Recycling of parts – Thermoplastic resins can be reheated and reprocessed multiple times before they lose their integrity.
Greater design freedom – Plastic parts fabrication offers a greater variety of material selection and the ability to create more complex geometries. You can also mold in structural strength features such as ribs, bosses, and gussets during original production, increasing the strength of the part while reducing the need for expensive secondary services (such as fastening, welding, and gluing).
Reading Plastic: Experienced Plastic Parts Fabrication
With nearly four decades of experience and top-of-the-line machinery, Reading Plastic can produce plastic parts with tight tolerances that rival or exceed those of metal parts. Call us today at 610-926-3245 to learn more about our plastic parts services.