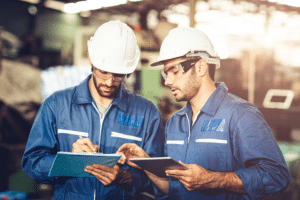 What makes Reading Plastic & Metal stand out amongst the top machining companies? Combine our decades of experience, dedicated and passionate team of machinists, CNC programmers, salespeople, and engineers, machining capabilities, and our quality systematic approach- and it's clear why we reign supreme. Companies, organizations and the military rely on Reading Plastic Machining & Fabrication for all of this and more. With the equipment and know-how to produce the most precise, dependable plastic parts, we can meet your CNC machining needs on time and on budget.
Machining Capabilities
Let's talk about machining capabilities: Our CNC milling, CNC routing, and CNC turning centers all use world-class 3-axis to 4-axis machines made by DMG, Mori, Haas and Heian. These machines are the apex of CNC machining due to their immense weight and rigidity. The heavier the machine, the lower its vibration, and the lower the vibration, the more accurate the part.
Work holding: Motionless work holding is the first step to producing quality parts—the better the work holding, the better the part. We've developed some of the most advanced vacuum, chuck, and vise holding techniques in the industry.
Here's one example: Every machine at RPMF has its own vacuum portal, which allows a higher percentage of machining to be completed before rotation for secondary work. This method delivers better rigidity for the highest quality surface finish and tight tolerances.
Meet & exceed standards: Our machines are calibrated for ideal thermal compensation, which increases repeatability. This makes it easy to achieve tight tolerances, even with the most advanced composite materials. We use Renshaw tool probes for all tool and fixture offset adjustments—there is no place for guesswork at RPMF. We control for every variable, and we start with the best materials to create the best parts.
Tooling: This is the fun part. As materials advance, we stay one step ahead with specialized tooling geometry. Drawing on decades of machining knowledge, we constantly push the limits of cutter technology. We machine using all the big-name cutters: SANDVIK, RobbJack, Onsrud, Mitsubishi, American Carbide, and SP3 Diamond, to name a few. We only use the highest grade, sharpest grind carbide cutting tools, with the correct rake and relief to counteract the heat generated during machining.
We use the same approach for all turning, routing, and sawing of advanced materials. By minimizing heat and stress, we reach and maintain the tightest tolerances for your plastic parts.
Top Machining Companies? Reading Plastic & Metal Rises Above the Rest
Ready to start your project? Give us a call at (610) 926-3245 or fill out our online form to receive a free quote. No matter the scope or complexity of the job, we're confident we can meet your needs. Get in contact with us today!