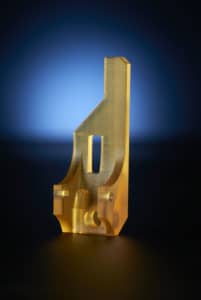 Ultem plastic resin is a family of thermoplastic PEI (polyetherimide) resins that offer high strength and stiffness, superior elevated thermal resistance, and broad chemical resistance. Ultem plastic uniquely balances processability and mechanical properties, giving design engineers outstanding flexibility and freedom. There are also various grades of Ultem available that provide even higher chemical, heat, and elasticity needs.
General Properties of Ultem Plastic
Predictable strength and stiffness up to 200ºC/392ºF
Great processability
One of the most dimensionally stable thermoplastics available
Inherently flame resistant in most grades, exceptionally difficult to ignite, and generates extremely low smoke
Excellent long-term heat resistance with stability of both physical and mechanical properties at elevated temperatures
Stress and cracking resistance when exposed to aircraft and automotive fluids, alcohols, acids, and more
Ultem Plastic Grades
Ultem 1000 – This unfilled, general-purpose grade combines exceptional mechanical, thermal, and electrical properties. It offers high heat resistance, high strength and modulus, and broad chemical resistance up to high temperatures. It is inherently flame retardant, resistant to UV and gamma radiation, and excels in hot air and water environments.
Ultem 2300 – The most common filled Ultem plastic grade, Ultem 2300 is 30% glass filled. The addition of glass fiber provides greater tensile strength, rigidity, and dimensional stability, while maintaining many of the useful characteristics of basic Ultem. It can perform continuously to 340ºF, making it ideal for high-strength/high-heat applications and those that require consistent dielectric properties over a wide frequency range. Ultem 2300 is commonly machined into parts for reusable medical devices, electrical/electronic insulators, and a variety of structural components.
Ultem 2100 and 2200 – 10% and 20% glass filled, respectively, these are the less common glass-reinforced grades of Ultem plastic. The whole 2000 series enjoys exceptional strength-to-weight ratio, enhanced tensile strength, stiffness, and overall dimensional stability thanks to glass fiber reinforcement. 2100 combines high strength and rigidity at elevated temperatures with long-term heat resistance, while 2200 offers excellent dimensional stability combined with broad chemical resistance.
Ultem 2400 – This 40% glass-filled high-performance polymer excels in medical reusable applications, particularly those that require repeated sterilization in autoclaves, and is available in FDA-compliant colors.
We Excel at All Grades of Ultem Plastic
While the Ultem plastic grades listed above are among the most common, there are many more grades to choose from, depending on your needs. For example, Ultem 3452 is a 45% glass-fiber and mineral-filled enhanced flow PEI with enhanced dimensional stability. Ultem 4000 is glass fiber, PTFE, and graphite filled, while Ultem 9090 offers improved ductility and detergent resistance. Discuss your project's unique needs with one of our expert staff, and we can help match you with the right Ultem plastic grade.