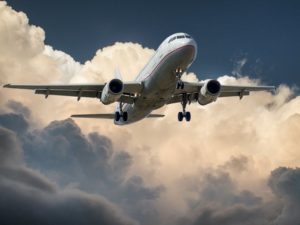 For commercial airlines and military aircraft alike, finding ways to reduce maintenance costs is high priority. Aircraft parts repair is costly in both part cost and down time. The aerospace industry is increasingly turning to 3D printing to shorten lead time on parts, lower costs, and improve the quality of repairs. However, 3D-printed parts often fail to meet tolerance requirements. That is where machinists step in, performing secondary operations to achieve the correct tolerances for these parts.
3D-Printing and Aircraft Parts Repair
Southwest Airlines and Air New Zealand are among those airlines looking to cut aircraft maintenance costs by 3D printing certain parts, such as ashtrays, latches, and fold-down trays. They are currently targeting parts that are either obsolete or have long lead times for delivery. The airlines do not necessarily copy OEM parts, instead using the Part 146 design organization approval to create 3D parts with the right shape, size and color. This allows them to make certain beneficial modifications, such as replacing a solid part with a lighter hollow one. Air New Zealand is now considering 30 additional parts that are hard to obtain but potentially easy to 3D print. While they do see a cost savings on the parts themselves, the largest benefit is avoiding revenue losses caused by part delays.
Magnetic MRO, a provider of innovative aviation solutions, is also having success with 3D printing interior parts, such as plastic armrest covers and passenger air nozzles. 3D-printing also allows them to add strength if the OEM part frequently breaks due to poor design. Magnetic MRO is seeing substantial savings on both part cost and delivery times. One aftermarket part took three months to obtain at a cost of $80. 3D-printing and certification of the same part took three weeks and cost $55.
The Downside of 3D-Printing
Aircraft parts must often hold tolerances of +/-.001" or better in order to meet standards and perform well in their critical applications. 3D-printing is often incapable of achieving these tight tolerances. However, precision CNC machining can correct plastic part defects and get 3D-printed parts to hold the required close tolerances.
As an experienced provider of CNC services, Reading Plastic is well equipped to rectify 3D-printed part defects, including:
Overly wide base layer
Poor surface finish (horizontal and vertical)
Overhangs
Warping
Bridging
Stringing
Z-wobble
Reading Plastic: Improving Aircraft Parts Repair
If your 3D-printed aircraft parts are not holding tight tolerances, Reading Plastic is here to help. We offer secondary operations to bring your parts into compliance. To learn more about our CNC solutions, call us today at 610-926-3245.