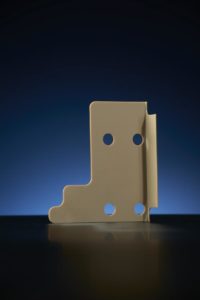 Computer Numerical Control machining, or CNC machining, is a computer-controlled machining process used for manufacturing plastic parts. Its high degree of precision allows the production of complex three-dimensional shapes for use in many different industries. Among the many advanced parts and products manufactured with CNC machining, aerospace parts are in increasing demand.
The use of plastics in the aerospace industry has quadrupled since 1970, thanks to plastic's superiority over traditional metals in some key areas. CNC machining creates ultra-light, ultra-strong plastics for use in nacelles and engines, landing gear, control systems, and other interior systems in aircrafts.
Reading Plastic is a leader in manufacturing precision-engineered plastic parts for the aerospace industry. Our aerospace clients know they can depend on our expert CNC machining services for plastics that offer supreme resistance to heat, wear, and chemicals.
Reading Plastic and CNC Machining: Aerospace Parts for Your Most Complex Projects
At Reading Plastic, we work with our aerospace clients to create precise plastic parts for their most complex projects. We use a variety of methods to manufacture precise parts.
CNC milling. Our CNC milling machines create complex plastic parts out of advanced materials with high tolerance and smooth finishing. For example, we recently machined a new heat shield made of PEEK for an airplane. PEEK and other advanced plastics offer lighter weight, flame resistance, and other benefits for aeronautical components.
CNC routing. With our vacuum-secured routing system, thousands of identical high-performance parts can be turned out quickly and accurately.
CNC turning. We use the latest CAD/CAM techniques and software, and we can create your sprockets, gears, augurs, and other parts from any specialty plastic you request.
CNC sawing. Our CNC saws combine ultra-fast cutting speed and pinpoint accuracy, creating perfectly shaped pieces every time.
Die cutting and stamping. We produce gaskets, washers, seals, insulators, and graphics with custom steel-rule and CNC machined dies.
3D printing. If a company needs a highly custom part, they may choose to have it 3D-printed. However, the surface finish of 3D-printed parts often causes lost tolerance. Reading Plastic can do secondary operations to get the tolerances where they need to be, including machining away excess additive material. For more information, check out this blog on why 3D printing is no threat to CNC machining in aerospace.
We Are Experts in CNC Machining!
Reading Plastic provides its aerospace clients with the highest-quality plastic for aeronautical parts and components. Contact us for a free estimate on precise parts for aviation and aerospace!