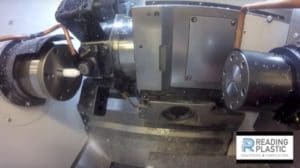 With decades of experience as a leading CNC plastic cutting service, Reading Plastic has the tools and knowledge necessary to create the high quality plastic parts you need. We excel at machining parts that hold tight tolerances of +/- .001, and can cut even the most advanced specialty plastics. Whether your job is a small batch or large run, we deliver your dependable parts quickly and on time.
Precise CNC Plastic Cutting Services
Our state-of-the-art, high speed CNC saws help your projects progress quickly. Combining ultra-fast cutting speed and pinpoint accuracy, we can deliver perfectly-shaped pieces on tight deadlines. We precision cut your plastic materials to exact size, helping minimize excess material costs. With our tools we can process materials up to 128" in length and all of our plastic parts must pass a comprehensive, ISO 9001:2008 compliant quality inspection before shipping. We can cut the most technical and advanced plastics, including PEEK, Halar®, Ultem®, Teflon® (PTFE), and Vespel®.
We specialize in:
Bar square stock
Billets molding banks
Pipe
Plates
Rod
Round stock
Sheet
Slugs
Tube hex
We also cut raw sheets, tubes and bars for our plastic distribution customers. We make it easy to buy specialty plastics, delivering your order to your door fast, cut to size and ready to use. This puts you a step ahead on your project, and you don't have to worry about calibrating your in-house saws to cut advanced plastics. You also don't have to worry about meeting a minimum threshold: we'll sell you the quantity of plastic you need, no matter how large or small, at a fair price.
All the CNC Services You Need Under One Roof
In addition to CNC sawing, we offer:
CNC Milling – Our machines can create advanced plastic parts with tolerances of +/- .001 and the surface finishes as smooth as 15Ra. We also offer secondary post-milling operations such as adding threads, finishing through-bores, and mounting surfaces.
CNC routing – With fast cycle times and consistently accurate parts, we can turn out hundreds or thousands of identical high-performance parts, including oversized specialty parts up to 127″ x 80″ x 9″. Our milling bits include standard bits from .010″ to 4.0″ and specialty bits for the most advanced engineering plastics.
CNC turning – We provide world-class CNC turning of advanced engineering plastics, specializing in multi-axis lathe work that holds tight tolerance standards, up to .001″. We use the latest CAD/CAM techniques and software to turn your designs into reality.
Our precision CNC plastic cutting services save you time, reduce waste, and keep your costs low. If you have a project that can benefit from our high-speed CNC plastic cutting services, call us at 610-926-3245 or email site2@readingplastic.com.