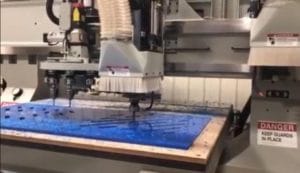 At Reading Plastic, we take in pride in our outstanding track record for exceptional CNC router services. We combine the latest tools and technologies with over three decades of plastic manufacturing experience to provide our customers with precise plastic parts that can hold tight tolerances and meet all design specs and requirements.
We're pleased to introduce our newest CNC router machine, the EXXACT Plus 116 TC2. This exceptional machine sets a new standard of CNC accuracy and high-speed machining performance. It can handle heavy duty CNC machining of various materials and thicknesses, cuts on X, Y and Z-axes, and can produce parts up to 63" x 63". The TC2 features two ANDI HSK-63F spindles, each with a 10-position tool carousel. It can easily interface with all major CAD/CAM software and industry standard solid modeling software packages.
Watch the video below to see our new router in action! In the video we are machining Blue HDPE into a guard used in the meat processing industry. Blue HDPE (high-density polyethylene) has a textured, matte finish that allows bacteria, odors, and cleaning fluids to wash off completely. It also has a solid surface that provides a stable and sanitary work area, and the material won't dull knives, making it a common choice in the meat processing industry.
Expert CNC Router Services from Reading Plastic
At Reading Plastic, our CNC router services are known for fast cycle times and consistently accurate results. With some of the best router capabilities on the east coast, our routing team can quickly produce hundreds or thousands of identical high-performance parts, no matter how intricate your part or advanced the material.
We have standard milling bits from .010" to 4.0" and are experts at routing with specialty bits for the most advanced engineering plastics. We can also handle oversized specialty parts up to 127" x 80" x 9" with our high-speed HEIAN Dual Table Router.
Our expert team specializes in:
3D-contours
Architectural
Beveling
Circular Patterns
Cutting boards
Decorative Panels
Interior design fixtures
Lighting panels
Patterns
Plunge cuts
Point of Purchase displays
Radius edges
TV screens
If you'd like to learn more about our precise CNC routing services, call us today at (610) 926-3245. Have a specific project in mind? Request a free quote or email us at site2@readingplastic.com.