Prototyping is a necessary stage of product development that determines whether your production efforts will ultimately be successful or not. With the increased popularity of rapid prototyping, it is easier and more affordable than ever to produce plastic prototypes. While additive processing is beneficial for the "fit and feel" stage of prototyping, CNC machining allows you to test the functionality of the end-use product. Compared to additive processing, CNC machined prototypes offer tight tolerances, greater potential for threads and undercuts, reduced size limitations, and better surface finishes. In fact, CNC machining is the most accurate process for producing most 3D features.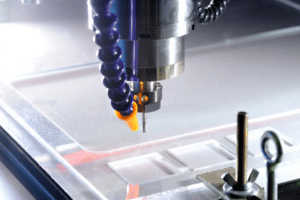 Benefits of CNC Machined Prototypes
When developing your prototype, your choice of manufacturing method will be determined by the volume of prototypes needed, the material, the type of testing they will undergo, and how complex or exact the prototype must be. CNC machined prototypes offer numerous benefits to your product development:
Advanced materials – 3D plastic prototypes are often limited to less technical plastics. CNC machining can produce prototypes from the most advanced engineering plastics, such as PEEK, Vespel®, and Torlon®.
Complex geometry – CNC machining can easily produce sophisticated niches and angles that can't be achieved by 3D printing or injection molding.
Consistent quality – Since CNC machines are computer controlled, you can be certain that each prototype will be identical to the last. And all our parts undergo a comprehensive, ISO 9001:2008 compliant quality inspection before shipping.
Cost savings – Unlike injection molding, CNC plastic prototypes don't have high tooling costs. They also don't require postprocessing to meet design specifications like 3D printed prototypes, eliminating the need for costly secondary services.
Superior finishes – CNC plastic prototypes have a superior surface texture when compared with other processes, giving it a clean, smooth look. With our state-of-the-art CNC milling machines we can achieve surface finishes as smooth as 15Ra.
Tight tolerances – If tight tolerances are fundamental in end use or testing or your prototype, CNC machining is a must. At Reading Plastic, we excel at tight tolerance machining, achieving tolerances of +/- .001.
Can accommodate any production volume – Whether you need ten plastic prototypes or 500, CNC machining can easily handle the volume. And while tooling for injection molds can take weeks to produce, but CNC machines can start churning out parts as soon as your design is programmed into the machine.
Reading Plastic & Metal is Your Source for CNC Machined Prototypes
If you have a prototype in mind, contact us today at 610-926-3245. Our experts can weigh in with more details on what's best for your particular project. We look forward to bringing your project to life!