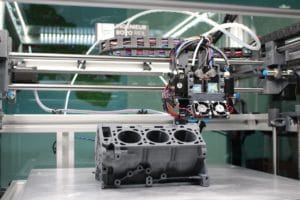 Those unfamiliar with the term additive manufacturing may know it by the more popular phrase, 3D printing. Additive manufacturing encompasses all technologies that build 3D objects by adding material layer upon layer. These technologies include 3D printing, direct digital manufacturing, layered manufacturing, additive fabrication, and rapid prototyping. Additive manufacturing, when used as a compliment to traditional manufacturing, allows for a design-driven manufacturing process wherein design determines production rather than the other way around. Other benefits of additive manufacturing include:
A high degree of design freedom
The ability to produce highly complex structures that are light and stable
Enhanced product customization even in serial production
The optimization and integration of functional features
Small batch manufacturing at reasonable unit costs
The Importance of Postprocessing Machining for Additive Manufacturing
As versatile as additive manufacturing is, it does have some drawbacks. Specifically poor surface quality – most commonly due to the "staircase effect" – and an inability to produce tight tolerances. Postprocessing is the critical last step of the additive manufacturing process in which surface characteristics are improved and parts are brought into alignment with design specifications. Precision machining is often used to produce exact holes and cuts or smooth, flat surfaces for interfacing with other parts. Postprocessing machining also corrects surface imperfections to enhance a part's aesthetics.
Reading Plastic: the Experts at Precision Machining
At Reading Plastic, our immaculately maintained machines and ultra-precise cutting tools allow us to offer superior CNC services. We can bring additive manufactured parts into compliance with tight tolerances through:
CNC milling – Our CNC milling machine is capable of producing extremely tight tolerances and surface finishes as smooth as 15Ra.
CNC turning – We excel in multi-axis lathe work that holds tight tolerance standards, up to .001″. Multi-axis turning allows for the creation of toolpaths across complex shapes that could not be machined on a traditional 3-axis machine.
CNC routing – Our vacuum-secured routing system can turn out a high volume of parts quickly and accurately, getting parts in your hands faster.
CNC sawing – Our CNC saws combine ultra-fast cutting speed and pinpoint accuracy, ensuring perfectly shaped pieces every time.
If your additive manufacturing parts require smooth finishes and close tolerances, call Reading Plastic at 610-926-3245 or fill out a quote request form. We are committed to superior quality and excellent customer service, with all our parts passing a rigorous ISO 9001:2008 certified quality inspection before they are shipped.