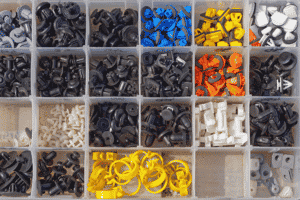 Looking for custom plastic parts online? At Reading Plastic & Metal, we leverage our staff of qualified machining professionals and our fleet of world-class machinery to deliver expectation-exceeding precision, quality, and promptness. With decades of expertise and a true passion for plastic machining, we're prepared for any job thrown our way and guarantee top-notch results.
Plastic vs. Metal
When it comes to choosing the right material for your project, weighing your options is always ideal. Here area few reasons plastic may be a better choice over metal:
Parts consolidation – Multiple metal parts can often be redesigned into a single plastic part. Reducing the number of parts also reduces the need for fasteners and assembly.
Weight reduction – Most plastics are about six times lighter than zinc and have a lower density. Lightweight parts mean greater ease of use and reduced fuel consumption.
Labor savings – Plastic parts often require minimal assembly and can reduce the need for secondary operations such as welding, painting, and laser marking.
Performance – Many plastic polymers offer resistance to impact, flame and chemical resistance and are also non-conductive, empowering your parts to perform better in critical applications.
Custom Fabrication Services
We offer custom fabrication services to turn your machined plastic parts into assembled, finished products. This could be as basic as snapping machined parts together, or it could require complex bending, threading and more. If you need finished plastic parts ready for you or your customer to use right away, our fabrication team will make it happen.
By machining and fabricating your plastic parts in one place, you can greatly reduce production costs. Our fabrication services are also perfect for when you need a specialty plastic item, but don't have the staff or machinery to modify your machined parts. In this case, our team can become an extension of your own to help you achieve your goals.
Order Custom Plastic Parts Online From Reading Plastic & Metal
If you're looking to order custom plastic parts online, call Reading Plastic today at (610) 926-3245 or email site2@readingplastic.com.